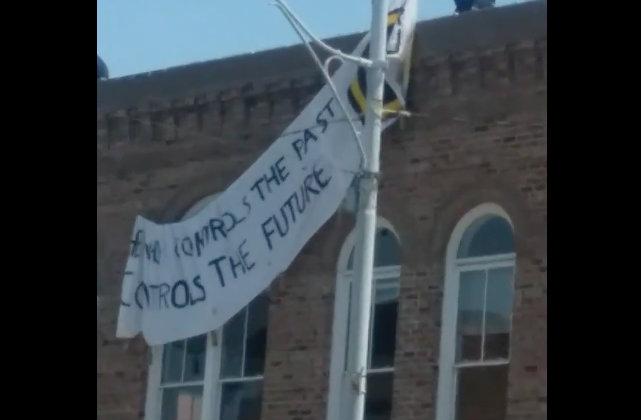 Two Marines were arrested after displaying a banner featuring a white nationalist phrase. 32-year-old Joseph Warner Manning and 35-year-old Michael Joseph Chesney were booked May 20 on one count of misdemeanor first-degree trespassing.
Cops said the two showed up at pro-Confederate rally in Graham, North Carolina. The pair allegedly climbed up to the top of a building, and depicted a banner with two phrases. Across the center, there was a quote from George Orwell's novel 1984: "He who controls the past controls the future." Then, along the edge was the phrase: "YWNRU."
It stands for "You will not replace us." The slogan is associated with white nationalist and so-called identitarian organizations. For example, Richard Spencer led people on a "You will not replace us" chant at a pro-Confederate monument rally in Charlottesville, Virginia. When used, it tends to signify a fear of immigrants, usually Mexicans or Muslims.
For Manning and Chesney, there may be more to it than a possible criminal conviction: the Marine Corps will investigate the incident.
"Of course we condemn this type of behavior," Maj. Clark Carpenter told The Times-News in a Saturday report. "We condemn any type of behavior that is not congruent with our values or that is illegal."
Both men are staff sergeants. Manning declined comment when reached by the outlet, saying he wasn't allowed to talk about this. Chesney didn't respond to their request for comment.
[Screengrab via YouTube]
Have a tip we should know? [email protected]