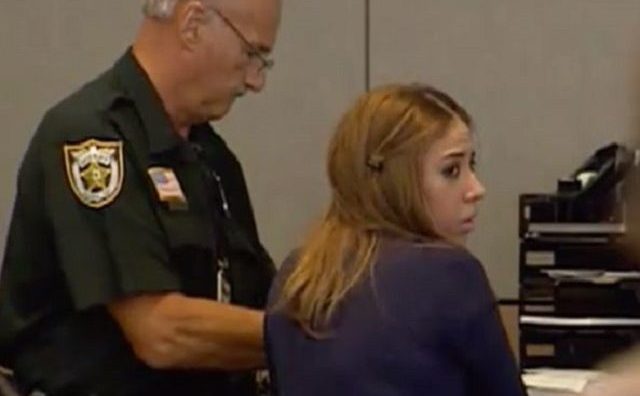 A jury has reached a verdict in the case of Dalia Dippolito.  She's the Florida woman accused of trying to hire an undercover cop to kill her husband, Mike Dippolito. After a short deliberation period on Friday afternoon, the jury found Dippolito guilty of  solicitation to commit first-degree murder.
During the trial, jurors listened to a recording of Dippolito trying to hire the purported hitman.
Dippolito's lover, Mohamed Shihadeh, who eventually became a police informant, also testified that Dippolito had talked with him about killing her husband by lacing a drink with antifreeze.  He further testified that Dippolito tried to get him to help both secure a gun and a hitman.
The lover's testimony was contentious.  Defense attorneys moved before the trial began to keep it out of court.  Prosecutors were able to use it to impeach Shihadeh's initial claim that Dalia Dippolito had not discussed her desire to eliminate her husband.
"The evidence is overwhelming," prosecutor Craig Williams said during closing arguments.
"That woman is as guilty as anyone who's ever walked into a criminal courtroom," he said.  "It's like 'Old Milwaukee.'  It doesn't get any better than this," he added.
Williams urged jurors to focus on "her actions, her words, and her intent.  That woman is as guilty as ever," he argued.
Defense attorney Brian Claypool had previously argued that the police case was so horrible that Dippolito should go free.  He accused the police of bringing forward "trash evidence" and of conducting a "garbage investigation." He said the police department which investigated the case was "in love with publicity" and not "in love with justice."
Defense attorneys criticized the police department which handled the case for involving the television show "Cops."
At one point, Claypool even told jurors that even if they think Dippolito is a "gold digger," they shouldn't hold that against her.
Dippolito could face a thirty-year prison sentence. Her sentencing will take place at a hearing on July 21 at 1:30 pm ET.
Have a tip we should know? [email protected]