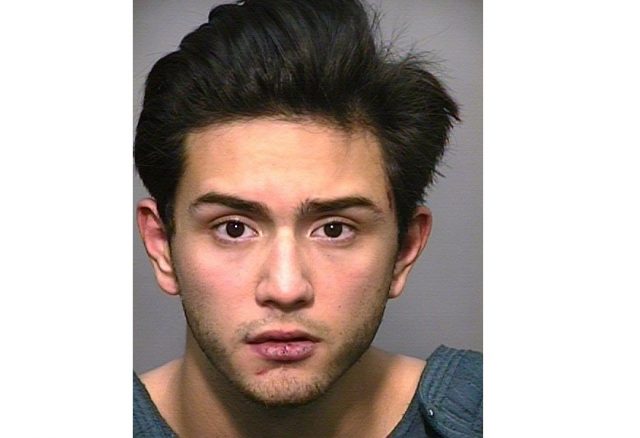 Jury selection starts Tuesday in the murder trial of Steven Jones, a then-freshman at Northern Arizona University who shot four other students after an off-campus party on October 9, 2015. Jones claims that he acted in self-defense after being chased during a brawl. Colin Brough died in the attack, and  Nick Piring, Nick Prato, and Kyle Zientek were injured. Jones is facing charges of first-degree premeditated murder and aggravated assault. The trial, which is being held in Coconino County Superior Court, will begin once the jury is selected, which could be as soon as Wednesday.
Jones, who was pledging the Sigma Chi fraternity had gone to a party just outside the NAU campus with a few other pledges. On the way back, Jones claims, they were attacked by another group of students in a parking lot on the edge of campus, with Jones getting hit in the face. Jones retrieved a gun from his car, and then opened fire on the other students, according to police.
Police saw that Jones had injuries when they arrested him. Jones' father has said that his son suffered a concussion and had teeth knocked out during the commotion.
One of Jones' friends called 911 at the time of the shooting. In the background, Jones could be heard shouting, "He tried to hurt me! I'm sorry!"
Police video from the time of the arrest shows Jones yelling to officers, "Please go help them, I'm so sorry."
Judge Dan Slayton ruled that some of Jones' statements after the shootings are not admissible as evidence at trial. Jones had said to police and witnesses that he acted in self-defense and that he was scared. Judge Slayton decided that these were self-serving statements, and did not mean that Jones did not have the intent to kill. "You can intend to kill somebody and still be scared out of your mind," the judge said at a March hearing. Still, Judge Slayton did not issue a blanket ruling on all of Jones' statements.
Medical records showed that all four victims had been drinking. Jones was sober on the night of the shooting. Brough, the student who died, was reportedly found to have marijuana and alprazolam (commonly known as Xanax) in his system, in addition to alcohol. Two of the other victims had marijuana in their systems. Prosecutors tried to get that information barred from trial because it doesn't mean they were high at the time, but Judge Slayton is allowing the information because one of the victims had allegedly said at the hospital that he had never had drugs in his life, despite testing positive. The information could be used by the defense to impeach his credibility.
Jones faces up to life in prison for first-degree murder. At one point, prosecutors had reduced the top charge to second-degree murder, but a grand jury decided to indict Jones for first-degree murder. LawNewz.com will be streaming the entire trial so stay with us for up to the minute analysis and coverage.
[Image via Northern Arizona University]
Have a tip we should know? [email protected]