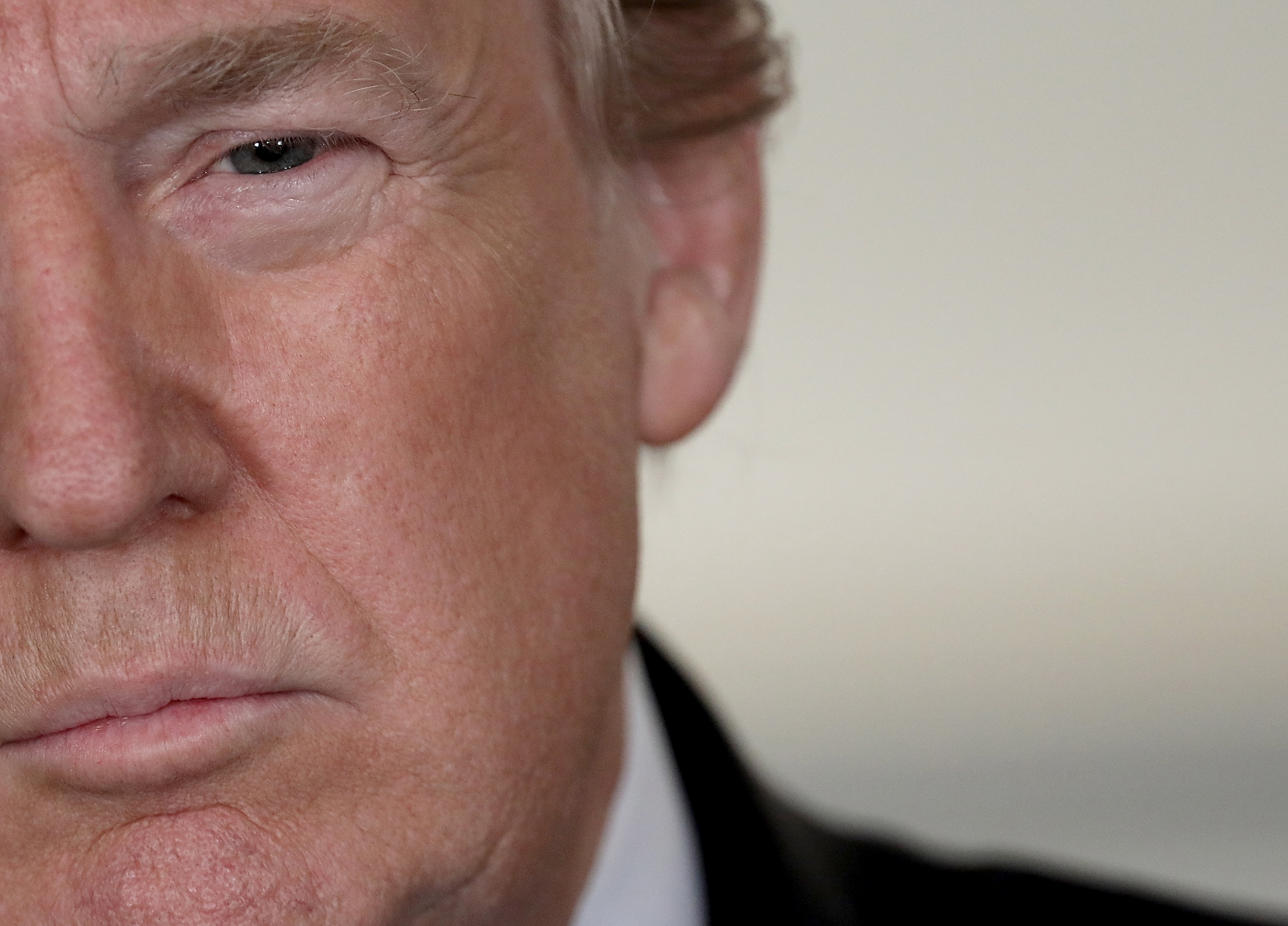 The Trump administration was sued for racism in a federal lawsuit filed Thursday.
Centro Presente and the Lawyers' Committee for Civil Rights and Economic Justice filed their 37-page complaint this morning with the U.S. District Court for the District of Massachusetts. A press release accompanying the lawsuit noted, "The heart of this lawsuit claims discrimination against immigrants of color."
The complaint names President Donald Trump, the Department of Homeland Security ("DHS"), DHS Secretary Kristjen Nielsen and DHS Deputy Secretary Elaine Duke as defendants. The suit claims those Trump administration officials and DHS unlawfully acted with "invidious discrimination on the basis of race, ethnicity, and/or national origin" when the agency terminated the Temporary Protected Status ("TPS") program for individuals from Haiti and El Salvador.
The TPS program was initiated for Haitians in the aftermath of a massive earthquake on the island nation in 2010. Upwards of three million Haitians were negatively impacted by that earthquake which devastated the country's infrastructure. Since then, an acute refugee issue has developed as Haitians have struggled to rebuild in the face of compounded natural disasters, still-weak infrastructure, a struggling economy and violence.
El Salvadoran refugees were designated with TPS status after an earthquake struck the central American nation and displaced some 1.3 million people in 2001. That earthquake also unleashed mostly unchecked infrastructure damage and economic devastation. Similarly, progress on the rebuilding front has been stalled by corruption, violence, a weak state apparatus and additional natural disasters.
According to the lawsuit, "TPS is intended to provide safe haven in the United States for foreign nationals whose nation is experiencing a humanitarian or environmental crisis." The Trump administration announced the cessation of TPS designations for Haiti and El Salvador on January 8 of this year, according to the New York Times. In announcing their decision, Trump administration officials claimed that both nations had moved on from the precarious situations described above and, therefore, foreign nationals from each country no longer belonged in the TPS program.
The lawsuit, a copy of which was obtained by Law&Crime this morning, vehemently disagrees. It reads, in part:
Defendants' stated reasons for terminating TPS for Salvadorans and Haitians…are nothing but a thin and pretextual smokescreen for a racially discriminatory immigration agenda — one that the President has been astonishingly blunt about articulating. President Trump has long made clear his dislike and disregard for Latino and Black immigrants, including equating Latino immigrants with rapists, asserting that African immigrants who have seen America would never "go back to their huts," and saying a group of Haitian immigrants "all have AIDS." Most recently, in discussing immigration policy with Congressional leaders in January 2018, he referred to Haiti and other TPS nations as "shithole countries," further driving home the racial motive by saying that the United States should let in more immigrants from Norway instead.
The lawsuit continues, "The animus directed towards Latino and Black immigrants is a clear and unfortunate thread running throughout President Trump's statements — and is actualized by his Administration's policies, such as the ones challenged by this lawsuit."
Based on two Fifth Amendment claims, the lawsuit accuses the Trump administration of unconstitutionally violating eight Haitian and Salvadoran refugee plaintiffs' rights to equal protection and due process. Those plaintiffs are seeking a declaratory judgment ruling that the ending of TPS designations for Haiti and El Salvador were unlawful and a mandamus writ ordering the DHS to reinstate said protective designations.
While not explicitly racist on its face, the Trump administration's decision to rescind TPS for Haitians and Salvadorans is arguably a governmental decision that is being administered in a manner that discriminates. This is unconstitutional. The recision of TPS also stands to impact the plaintiffs in a disproportionately negative manner–which is also unconstitutional.
Since this lawsuit alleges discrimination based on a class of individuals known as a "suspect class" in the legalese of Constitutional law, the Trump administration's action here is likely to be viewed with strict scrutiny. In order for the TPS cancellation decision to survive a strict scrutiny analysis, the Trump administration will have to show that their decision was both narrowly tailored and fulfilled a compelling governmental interest.
Under the circumstances, "narrowly tailored" means there was no less discriminatory method available for the government to achieve their purpose. The administration is likely to have trouble arguing their decision to cancel TPS for Haitians and Salvadorans fulfilled a compelling governmental interest. But the Trump administration is likely to have even more trouble showing that a blanket revocation of TPS designations for two entire groups of foreign nationals was the least discriminatory method available.
Law&Crime reached out to Nielsen, Duke and DHS for comment on this story, but no response was forthcoming at the time of publication.
[image via Photo by Win McNamee/Getty Images.]
Follow Colin Kalmbacher on Twitter: @colinkalmbacher
Have a tip we should know? [email protected]