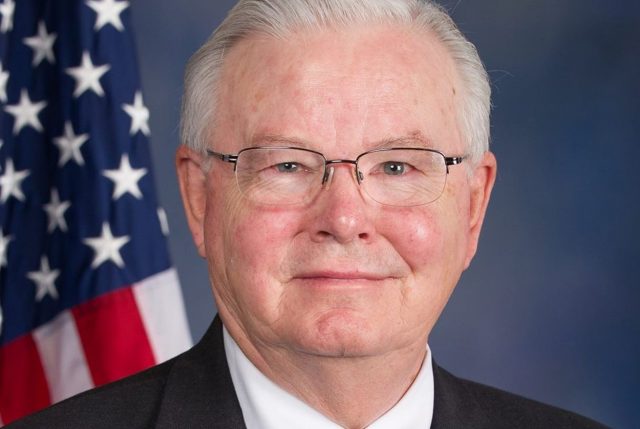 As the outing of powerful men as serial sexual harrassasers continues to grip the nation, there is one case that may be unfairly getting grouped into all of this. That's the case of Rep. Joe Barton (R-Texas) and his apparent penis picture. While I am certainly not condoning his behavior with multiple women, as far as I can tell, everything he did outside of work was consensual. In other words, he appeared to send his penis pictures to women who were willing recipients and with whom he had been having a sexual affair with.  Legally speaking, it sure seems he is actually the victim in all of this.
"In my opinion, I don't believe there should be a double standard based on gender. Were the gender roles reversed, I dare say, especially in the current climate, all hell would break loose," Mark Zaid, a cyber security attorney said in a recent tweet thread.
So let's review the facts as far as we know them. While apparently separated  from his wife, Congressman Barton engaged in a series of relationships with women, some of whom he met online. During the course of a five year relationship with one of them, Rep. Barton sent sexually explicit photos, videos and messages to her and engaged in a physical relationship. According to a recorded conversation obtained by The Washington Post, that woman apparently became aware of and corresponded with multiple other women who engaged in relationships with Barton." In other words, the woman found out Barton was cheating on her.
In a 2015 phone call, Barton confronted her about her communications with the other women and her decision to share his explicit photos with them. Barton contends she then threatened to expose his pictures publicly.  "I want your word that this ends…I will be completely straight with you. I am ready if I have to, I don't want to, but I should take all this crap to the Capitol Hill Police and have them launch an investigation. And if I do that, that hurts me potentially big time," he said.
The woman also shared with The Post a 53-second cellphone video Barton recorded of himself while masturbating. The photo that circulated on twitter, that Barton acknowledged was him, appears to be a still frame from the masturbation video. This anonymous woman who spoke to The Post claims she was not the source of the photo that was posted online. However, the penis picture appears to be from a video that she was sent, and she admits to sending his explicit photos to others on previous occasions. Capitol Police are now investigating.
So what does the law say about this? It doesn't look good for those who distributed his naked pictures.
There is no federal law that prohibits revenge porn but there is one in Texas where Congressman Barton is from. As Zaid pointed out, according to Section 21.16 of the Texas Penal code, a crime of "revenge porn" occurs when another person:
*Distributes or transfers photos of a person in which the subject is nude or engaged in sexual activity

*Distributes such photos without the subject's consent

*Distributes such images when the subject took them with a reasonable expectation of privacy

*Distributes such photos along with identifying personal information of the subject
If convicted, you can face up to a year in jail and a fine up to $4,000.
"My review of the law would lead to my recommendation that this woman retain an attorney as soon as she can. It would appear she may have violated the TX statute. The same for anyone who distributed the images/video, and especially those who posted," Zaid said. "Candidly I hope Cong. Barton pursues this further than just an investigation by Capitol police, especially through litigation against InfoWars (they posted the masturbation video)." Zaid notes he is basing his opinion on available facts, and, of course, the opinion may change if more information becomes available.
So let's flip this around for a minute. If a woman had a relationship with a guy, and in the course of the relationship, she sent pictures of her breasts to him. And, say, at one  point, the guy found out she was actually seeing a few other men, and in act of anger and revenge, he threatened and then subsequently decided to post her naked picture online, would we be painting her the aggressor? No, the man would probably get in trouble with the law.
Actually, something similar happened when two former staff members of  Rep. Stacey Plaskett allegedly spread and shared nude photos and videos of the female lawmaker and her husband on social media. What happened to them? They were indicted on federal cyberstalking charges.
[Official House Photo]
Have a tip we should know? [email protected]
Rachel Stockman - President / On Air Host