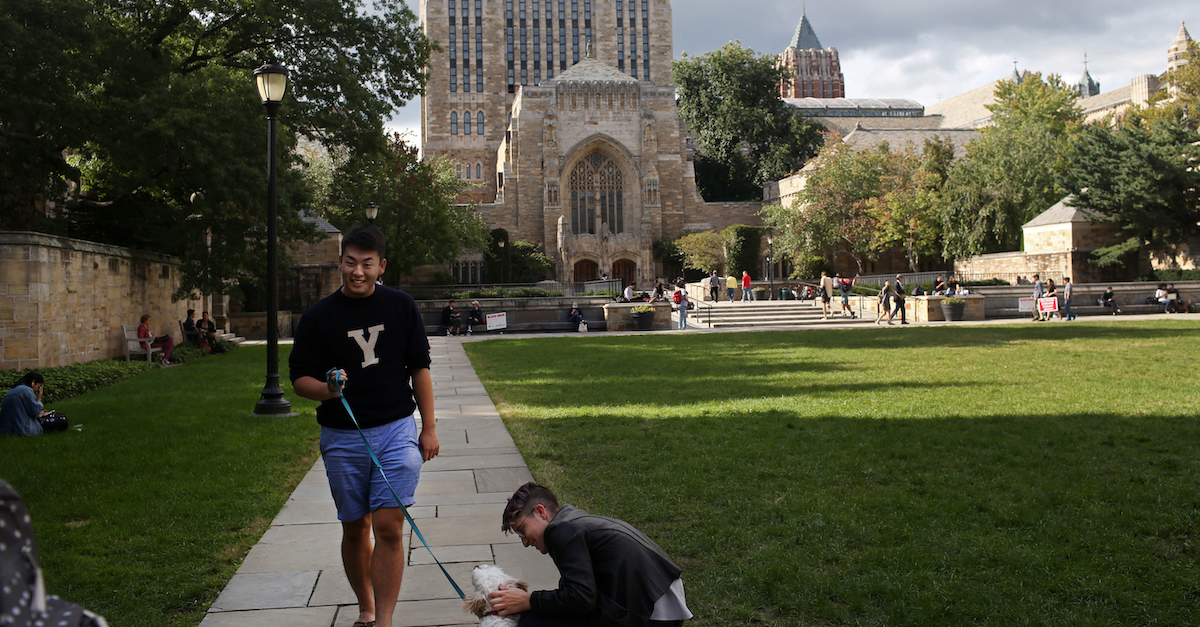 Three female Yale undergrads are hoping to sue all-male fraternities out of existence, accusing their university of violating their rights in multiple areas by continuing to allow discriminatory groups to exist.
Daniel H. Schneider of Schneider Law Firm, LLC filed the lawsuit on behalf of Anna McNeil, Eliana Singer, and Ry Walker, all of whom are female Yale undergrads who claim to have all been "groped at fraternity parties during their first semesters at Yale."
The women claim that they are denied opportunities due to their gender and that sororities do little to solve gender inequality they face.
"Women and non-binary students at Yale are excluded from these social and economic privileges of fraternity membership solely because of their gender," the lawsuit says. "The presence of Yale's sororities does not alleviate this disparity. 'Separate but equal' Greek life reinforces gender norms, stereotypes, and prejudices."
"Sex segregation can hinder cross-gender relationships, facilitate the objectification of people of other genders, and normalize sexual assault. Greek life, with its binary assumptions, also largely excludes non-binary students," they continue, counting the ways fraternities and sororities are treated differently.
"Moreover, Yale fraternities and sororities are not, in fact, equal in economic, associational, and social resources. The sororities are over one hundred years younger than Yale's oldest fraternities, offer fewer total housing units, and upon information and belief, have a smaller and less influential Yale alumni network," they say. "The sororities' national organizations also prohibit them from hosting parties, which leaves Defendant Fraternities—i.e. men—with unrivaled influence over Yale's social scene."
The plaintiffs say that they previously sought admission to nine of Yale's all-male fraternities but were denied. They claim that the school did not step in as requested.
"Plaintiffs have repeatedly petitioned Yale to intervene on their behalf and end the discriminatory admission practices of Defendant Fraternities. They have also sought Yale's assistance in ending the hostile environment that exists at the Fraternities and at Yale," the lawsuit continues. "They have specifically pointed out that gender-segregated Greek life violates Yale's anti-discrimination policies. The University, however, has refused to take meaningful steps to alter the Fraternities' admission practices or address the hostile environment."
At root, they are accusing Yale of operating hypocritically.
"Despite […] ostensibly sweeping prohibitions on discrimination, Yale permits unequal, gender-segregated Greek life to thrive on campus," the plaintiffs say. "This derogation of Yale's equal opportunity policies has a ripple effect on gender inequity at Yale: not only are women and non-binary students denied equal status as members of Yale's student body, but they are also deprived of the social and economic privileges of fraternity membership."
They cited George H.W. Bush, George W. Bush, and Supreme Court Justice Brett Kavanaugh as examples of Yale alumni who have had access to a network of elites due to their fraternity memberships.
The students claim: the school has violated Title IX by fostering a hostile educational environment and by gender discrimination; violated the Fair Housing Act by "refus[ing] to rent or sell, refuse to negotiate for the rental or sale, or otherwise make unavailable or deny, a dwelling to any person 'because of . . . sex'"; discrimination in places of public accommodation; breach of contract; and violation of the Connecticut Unfair Trade Practices Act.
They demand, in part, that members of "off-campus social organizations" be required to "attend regular, live in-person trainings, including trainings that specifically address issues of safe party management, fraternity-related sexual harassment and assault, gender roles and stereotypes, and diversity, equality and inclusion." They further demand that the school "strictly prohibit[s] all student social organizations, whether registered or unregistered, operating on or off-campus, from engaging in discrimination or harassment based on sex, gender, or gender identity or expression."
[Image via Yana Paskova/Getty Images]
Have a tip we should know? [email protected]