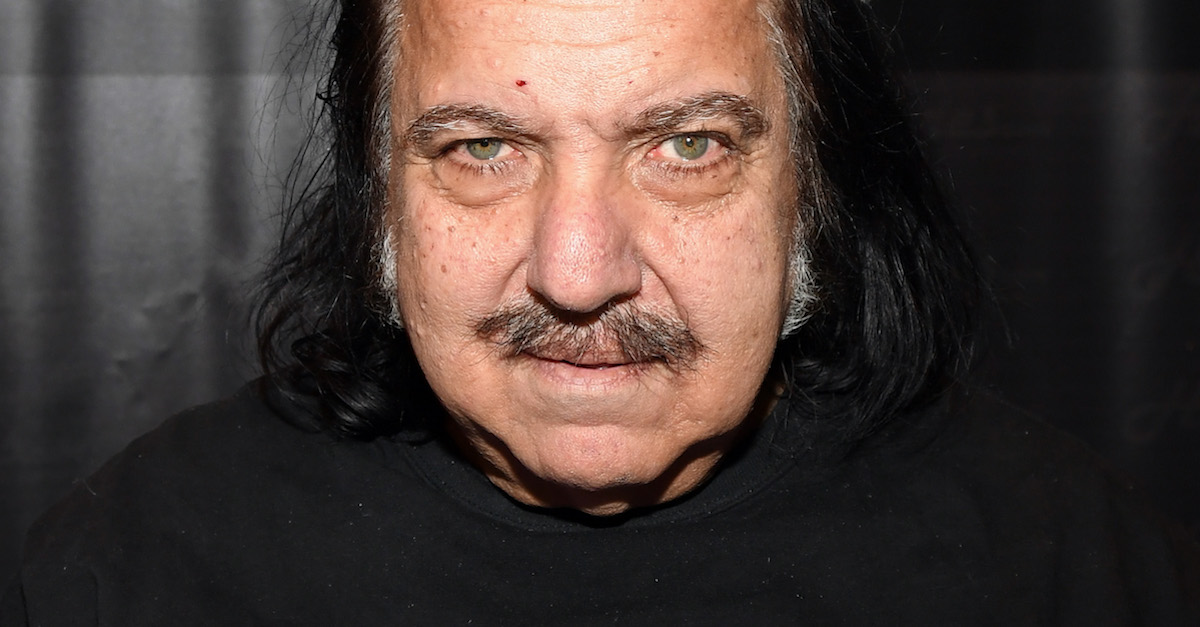 Kristin Brodie, a 22-year-old model, has filed a lawsuit against 65-year-old porn star Ron Jeremy (real name Ronald Jeremy Hyatt) over alleged assaults dating back to Sept. 2017.
While prosecutors have declined to bring criminal charges against Jeremy, Brodie filed a lawsuit in King County Superior Court in Washington last Friday, according to SeattlePI.
Brodie alleged that Jeremy groped her multiple times during an event at a sex store and is suing for damages. She said it happened while she was working for local radio station KISW. She accused Jeremy of "violently" groping her bare breast under her bra, grabbing her butt, putting his hand between her legs and sucking on the back her neck. In addition, she said Jeremy uttered "I'll be done in a sec" when he penetrated her with his fingers through her underwear and asked if that gave her "goosebumps."
Brodie's attorney Anne Bremner said her client, who claims to have suffered from PTSD since the alleged assaults, wanted to be named in the lawsuit.
She compared Jeremy to Bill Cosby and Harvey Weinstein for using celebrity to assault women "with impunity."
"That's just not right. For him to act as if he's entitled to do it … was really upsetting to [my client]," she said. "They all have patterns behind them that were ignored for a long time. And that's what empowered them to keep doing what they were doing."
A spokesperson for Jeremy told The Huffington Post that police and DAs had already declined to bring charges after reviewing "all of the videos."
"This case was already dropped by the district attorney and police. There were lots of people, including security guards and video cameras. The police and district attorneys looked at all of the videos and dropped the case," the spokesperson said. "Our team received a phone call from the police at the time, they said that they reviewed all of the videos and spoke to witnesses and found no evidence. They said that they still had to send it off to the district attorney, who obviously found nothing. I guess people can sue for anything these days."
Jeremy's lawyer Stuart Goldfarb denied that he "put his finger into her" and said that Jeremy has autographed many a breast consensually over the last 40 years without a problem.
"Woman often line up and there's mutual touching. He in many cases autographs their breast and it's consensual. I don't know if he pulled her shirt down, but I know that he may have touched her breast, he may have kissed her on the back of her neck and he's been doing this for 40 years and has never had a problem," he said. "She came back after she said he touched her and was doing a selfie with him. … If in fact it she felt it was inappropriate, she should have said something and believe me, he wouldn't have touched her."
Jeremy has been accused of sexual misconduct before. Over a dozen women told Rolling Stone in a 2017 article that he stepped over the line with them.
"He doesn't hear no," said former porn star Jennifer Steele, who claimed he raped her twice. "He just kinda keeps going and pretends like you didn't say anything."
Jeremy denied those allegations as well.
[Image via Ethan Miller/Getty Images]
Have a tip we should know? [email protected]