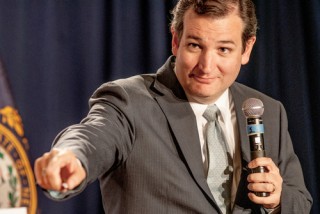 On the heels of a crushing Indiana loss, Ted Cruz bowed out of the presidential race, all but conceding to the presumptive Republican nominee Donald Trump.
"We left it all on the field in Indiana. We gave it everything we've got but the voters chose another path…so with a heavy heart but with boundless optimism for the long-term future of our nation, we are suspending our campaign," Cruz said on Tuesday night.
Cruz leaves behind 565 delegates to Trump's 1,047. So what the heck happens to all of his delegates? It is not as simple as you may think. Republicans leave it up to individual states to decide what happens when candidates drop out. So as you can imagine, the rules vary from state to state.
Last night, Cruz said "he was suspending" his campaign.  For the most part in order for the state rules to kick in, Cruz will  have to formally "withdraw" from the presidential race. Assuming he does that, Josh Putnam, a Republican convention delegate expert, explains in his blog that what happens next falls into one of  three main categories depending on which state the delegates are from:
The delegates are unbound, meaning they can vote for Trump during the first ballot at the convention, or
The delegates are locked in at least through the first ballot (meaning they have to vote for Cruz), or
The delegates are reallocated to the still-active candidates (i.e. Trump)
For example, Cruz won 24 delegates in Kansas, but in that state, he has to specifically release his delegates in order to allow them to vote for another candidate. The party rules say, "Delegates are representatives of the Caucus voters, so they are bound to their assigned candidate- until released by that candidate. Once released, they are free agents and can vote for any candidate whose name is properly before the national committee."
You might recall, Ted Cruz also won big in Wisconsin, where he picked up 36 delegates. Like Kansas, in Wisconsin, delegates are bound unless they are released by the candidate, or "until the candidate to whom they are bound receives less than one-third of the vote in any roll call nomination vote at the national convention."
Iowa is an interesting one. Cruz won 8 delegates.  According to Article VIII of the Bylaws of the Republican Party of Iowa, "Delegates shall be bound to the candidates in direct proportion to the candidates' respective vote shares in the Iowa Caucuses regardless of whether any such candidate has withdrawn from the race or otherwise does not have his or her name placed in nomination at the Republican National Convention." Wow, so that means delegates in Iowa must vote Cruz regardless.
As you can see, what happens to Cruz delegates is a little bit different in each state. Throughout the day, I will go through the rest of the states where Cruz won delegates and update this post. However, the big question is:  will this really matter? Most likely not, but maybe.  Trump will likely have more than 1,237 delegates and easily win. However, we've pointed out before that once the delegates get to the Republican National Convention, anything can happen. Though very unlikely, there is still a way that Trump could be denied the nomination even if he wins 1,237. This election has proven anything is possible.
"The delegates ultimately have the final say in the rules that will govern the convention. That may mean that they opt to unbind themselves, but a majority of them would have to agree to that," Putnam told LawNewz.com in a previous interview.
Have a tip we should know? [email protected]
Rachel Stockman - President / On Air Host