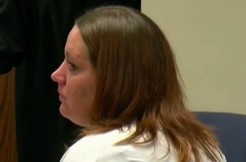 On Wednesday, a jury in Ellsworth, Wisconsin acquitted Kari Milberg for a December, 2013 car crash which killed her 11-year-old daughter, and two five-year-old nieces. She faced up to 30 years in prison, with three counts of homicide by negligent operation of a vehicle, and one count of reckless driving. Jurors took two hours to make their decision, Good Morning America reports.
Prosecutors claimed the crash would have never happened had Milberg not used her phone to text with a friend on Facebook. The last message was allegedly sent just under 30-seconds before the crash. But the defense said snow-covered roads and bad tires caused the accident.
Milberg's sister, the mother of the five-year-old girls, told GMA she was relieved to hear the verdict.
In a talk with GMA's Robin Roberts, LawNewz.com founder Dan Abrams said three elements probably led to the acquittal: 1) testimony showed slippery roads could've led to the crash, 2) prosecutors "had trouble" proving beyond a reasonable doubt that Milberg used Facebook "at that time, at that place," and 3) he thought the jurors felt sorry for her.
"I think one of the alternate jurors even said, 'Hasn't she suffered enough?'" he said. "And I think that may have been at the heart of this is these jurors looking at this, and possibly thinking to themselves, 'My goodness, could that have ever happened to me?'"
–
Follow Alberto Luperon on Twitter (@Alberto Luperon)
Have a tip we should know? [email protected]