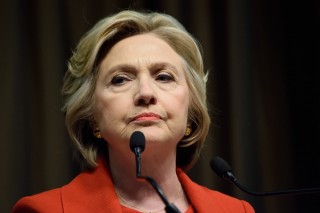 As this legal blog has explained on several occasions, "intent" was a key  consideration for the FBI in deciding not to charge Hillary Clinton with a crime related to the use of her personal email server.  In his unprecedented  July 5 statement to the public explaining the rationale behind the FBI's decision, Dir. Comey made a point of telling the public that the bureau was unable to find proof that Clinton "intended" to break the law.
The FBI director reiterated this point during his congressional testimony last month and everyone essentially took him at his word, considering he was in possession of any evidence that might contradict his assertions.
Last week, however, the FBI finally released notes from Hillary Clinton's interview with FBI agents to members of Congress.   Much of the materials remain classified, so lawmakers are generally limited in what they can say about the documents.
However, as first reported by Townhall.com on Thursday, Congressman Trey Gowdy has seen the materials and briefly spoke about them during a recent TV appearance.  According to Gowdy, FBI agents who interviewed Clinton apparently never bothered to ask her about her intent in using the private server!
"Remember James Comey said she was not indicted because he didn't have sufficient evidence on the issue of intent?" Gowdy said in his appearance on Fox News.
"I didn't see any questions on the issue of intent. There's no question she handled them [classified emails] negligently or extremely carelessly, he said he didn't go forward with charges specifically because he didn't have criminal intent. I didn't see any questions on that," Gowdy added
Gowdy then argued the only way to know for sure is for the FBI to release the complete set of documents.
This is an opinion piece. The views expressed in this article are those of just the author.