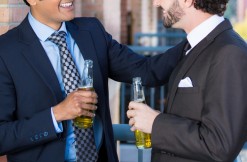 Bad clients. Ruthless adversaries. And those work hours, so many work hours. There are lots of reasons why an attorney might drink heavily, and that might vary from person to person. But one thing's clear: As a group, they have a problem with the bottle, according to a just-released study funded by the American Bar Association.
It's the most recent and thorough report of its kind. 13,000 attorneys nationwide were surveyed for substance abuse and depression rates. The finds were more than a little shocking. Over a third of subjects were problem drinkers. Meanwhile, 28 percent said there were depressed. They also reported similarly high amounts of anxiety and stress. Actually, 61 percent "reported concerns with anxiety at some point in their career."
So does the job cause depression, which results in drinking? Or does the drinking itself cause those mental struggles?
"While some individuals may drink to cope with their psychological or emotional problems, others may experience those same problems as a result of their drinking," the study states. Researchers just couldn't figure out this chicken-or-egg problem. But they point out that the legal profession has a drinking culture where booze is available and socially acceptable. Patrick Krill, co-author of the study, pointed out that drinking is also a part of socializing with clients, according to the National Law Journal.
"I think it pretty much confirmed what we suspected," said Richard Calton, the director of the State Bar of California's Lawyer Assistance Program, according to the National Law Journal. He's pleased about the existence of the new study, since the last major one of its kind was in 1990.
But there's a twist, which even surprised him. Younger attorneys face the biggest risk. 32 percent of those under age 30 were surveyed to be problem drinkers. Meanwhile, only 26 percent of attorneys between age 31 and 40 fit that category. That 1990 study, limited to lawyers in Washington state, discovered the opposite result, with the experienced drinking more than their newbie counterparts.
"The astronomical debt that they come out of law school with might be a factor," said Patricia Spataro, according to the National Law Journal. She's the director of the New York State Bar Association's Lawyer Assistance Problem. "They might feel they have to take whatever job they can get. They just have to start paying back those loans, and it becomes a desperate situation."
"Attorneys, law schools and law firms really need to get honest about these issues and get proactive," Krill said. "Until they do that, lawyer assistance programs won't be able to shoulder the load. We need a systemic response, and we now have the opportunity to make some meaningful progress on this issue."
[h/t National Law Journal]
[image via Shutterstock]
–
>> Follow Alberto Luperon on Twitter (@Alberto Luperon)
Have a tip we should know? [email protected]