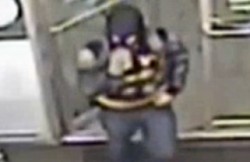 A man dressed in a Batman costume robbed two dollar stores at gunpoint Tuesday night, according to authorities. Let's see, where'd this happen? Hm…the city of Orlando. In Florida. Of course. Why would this happen anywhere else?
The Orange County Sheriff's Office said "Batman" first took to the 123 Dollar Store around 8 p.m., while The Dollar General was soon struck around 9:30 p.m. Holy crime spree! Fortunately, no injuries were reported, with the Dark Knight apparently harming no one. (Fun Fact: In the comics, the REAL Batman doesn't use guns. He's a strict rule against it, actually.)
The investigation is ongoing with Batman remaining unmasked. Deputies say this caped crusader is a white or Hispanic dude. Thin, last seen in blue jeans and his costume. Kindly call the Orange County Crimeline at 800-423-8477 if you have any information.
[h/t NBC affiliates]
–
>> Follow Alberto Luperon on Twitter (@Alberto Luperon)
Have a tip we should know? [email protected]