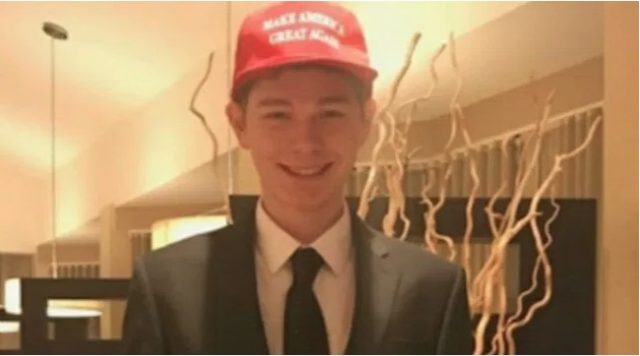 A Trump supporter at Transylvania University in Lexington, Kentucky withdrew from school after unsuccessfully trying to have an undocumented classmate deported.
Taylor Ragg posted the following message on Facebook: "Everyone go report this illegal at my school bragging about breaking the law."
Included in the post was an image of Paola Garcia, a recipient of the protections provided by the Deferred Action for Childhood Arrivals (DACA) program. Ragg's rallying cry, posted to a far-right Facebook group, didn't mention what laws Garcia was purported to have broken.
After Ragg's post went live, however, Garcia received a torrent of backlash. One message she received read, "Hope you enjoyed your visit. Back to them dirt floors of your homeland, stinky ass." Another read, "I can't wait till your fucking cunt ass is gone." And one read, "You and your [n-word] boyfriend need to leave."
Someone even sent Garcia a video of a Homeland Security tip form being filled out mentioning her by name.
The harassment got so bad that Garcia recorded a YouTube video with the simple title of "Help!" In that video, Garcia explains through tears how she was brought to the United States as a two-year-old child and yet, as a senior at her university, still doesn't feel like America is truly her home. Garcia recounts years of abuse at the hands of American nativists. She says: "I've dealt with racism, discrimination, threats, name-calling — just blatant ignorance. And I usually suck it up, bite my tongue, let it go. I've never asked for help, but that's what I'm going to do now."
Her video then goes into detail about Ragg's attempt at deportation and the fallout she received due to his, ultimately unsuccessful, efforts.
Garcia contacted administrators at Transylvania University, who initially declined to take action. Her story–and the school's refusal to step in at first–drew substantial media attention. Officials with the university then reached out to Ragg and presented their concerns.
Sometime during or after Ragg's discussion with school officials, he was no longer enrolled at Transylvania University. Some media reports claimed Ragg was expelled, while nativist website The Narrative Times touts an interview in which Ragg apparently claims to have voluntarily withdrawn for media exposure. In a screenshot of that interview, Ragg says he was "basically forced to" withdraw from school."
The university released a statement confirming Ragg's departure, which reads: "Taylor Ragg is no longer enrolled at Transylvania University. Per University policy and federal laws, we cannot offer any further details into the matter.
If the exact contours of how Ragg left the university are somewhat in doubt, Garcia, for her part, is mostly glad, but still fears retaliation by Ragg's alt-right fellow travelers. She said, "I don't have to walk across the stage with him, but I also feel that it isn't over yet."
[image via screengrab]
Follow Colin Kalmbacher on Twitter: @colinkalmbacher
Have a tip we should know? [email protected]