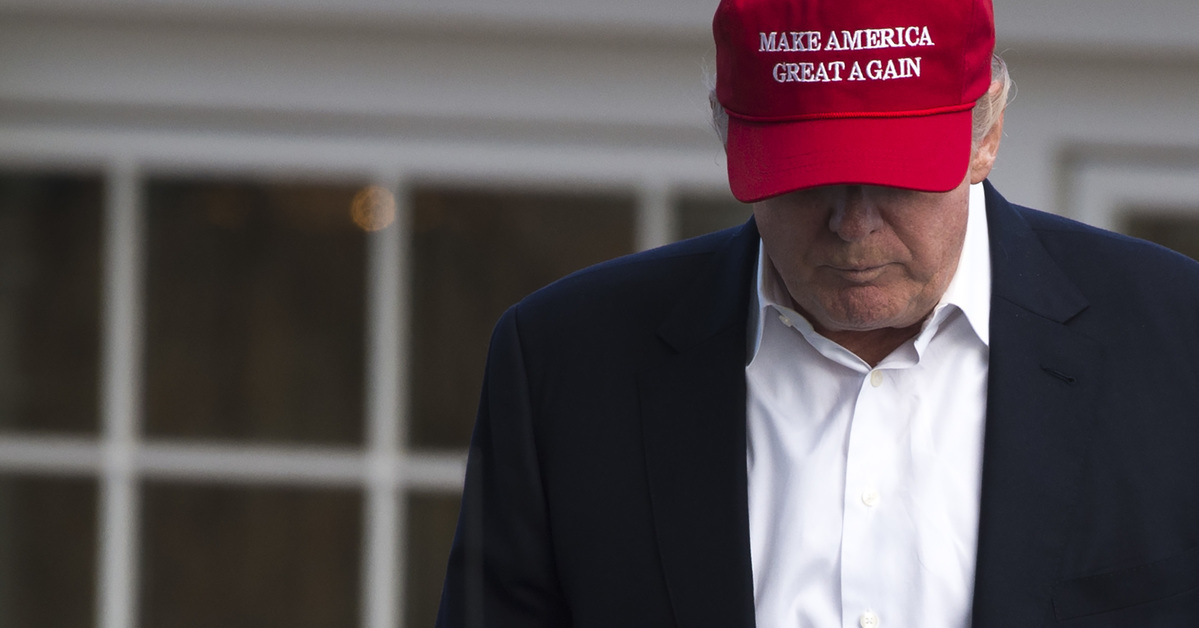 President Donald Trump has made waves in recent days by repeatedly describing plans to send an ever-increasing number of active-duty military troops to the U.S.-Mexico border. But when the White House asked for permission to have those troops perform law enforcement functions, the Pentagon rejected Trump's request.
According to CNN, the Department of Homeland Security (DHS) asked the Pentagon for a reserve force with authorization to engage in "crowd and traffic control" along the border as well as the authorization to provide protection for U.S. Border Patrol agents. This ask was flatly denied.
On Oct. 26, the Department of Defense told the White House that those three requests were actually tasks akin to law enforcement–which the U.S. military is not authorized to perform within the United States absent an additional grant of authority which is apparently not forthcoming.
Instead, DHS settled for simply providing Border Patrol agents with air support, logistics support, medical personnel and engineers. The military troops at or near the U.S. border, therefore, will not come into contact with any of the lawful migrants currently seeking asylum–and are legally prohibited from doing so by both U.S. law and the military's own provisions of the recent agreement with the White House.
U.S. Army troops, part of "Operation Faithful Patriot" arrived to the U.S. border with Mexico, deployed by President Trump ahead of midterms. Soldiers spread out barbed wire along the Rio Grande in south Texas. #immigration #border #caravanamigrante #undocumented #army pic.twitter.com/PVD6YIbCvk

— John Moore (@jbmoorephoto) November 2, 2018
The Posse Comitatus Act of 1878 was passed in the wake of Reconstruction Era military governors enforcing the Union Army's victory against the vanquished Confederacy. Those same governors eventually attempted to force Constitutional and congressional-mandated progress on the former slave and rebel states.
The terms of the Act provide as follows:
Whoever, except in cases and under circumstances expressly authorized by the Constitution or an Act of Congress, willfully uses any part of the Army or the Air Force as a posse comitatus or otherwise to execute the laws shall be fined under this title or imprisoned not more than two years, or both
Given the moniker Operation Faithful Patriot, the Trump administration has also requested at least 1,000 active duty U.S. Marines in what might be seen as an attempt to sidestep the confines of the above legislation.
Any efforts to do so, however, appear to have fallen flat as the Pentagon is apparently reading the spirit of the Posse Comitatus Act as a generalized prohibition against using U.S. troops as U.S. law enforcement agents.
Several hundred active duty troops began arriving at multiple towns spread across the U.S.-Mexico border on Friday–angering some local residents who are concerned about the troops bringing violence and chaos along with them.
"I feel safer [along the border] than when I go to up bigger cities," said lifelong Rio Grande Valley Resident Emmanuel Torres, "People that don't live here are just going to create a bigger negative image."
The deployment of active duty troops also prompted experts to note that Texas border towns are actually relatively safer on average than other cities with similar population sizes.
Jack Levin is the director of Northeastern University's Brudnick Center on Violence. In comments to Laredo's local CBS affiliate, he noted that the nine major U.S. cities along the border have property crime rates of 2,058 offenses per 100,000 inhabitants while the national property crime rate is just over 2,362 offenses per 100,000 inhabitants.
"It's almost shocking, but it's true," Levin said. "The numbers don't lie."
[image via Saul Loeb, AFP/Getty Images]
Follow Colin Kalmbacher on Twitter: @colinkalmbacher
Have a tip we should know? [email protected]