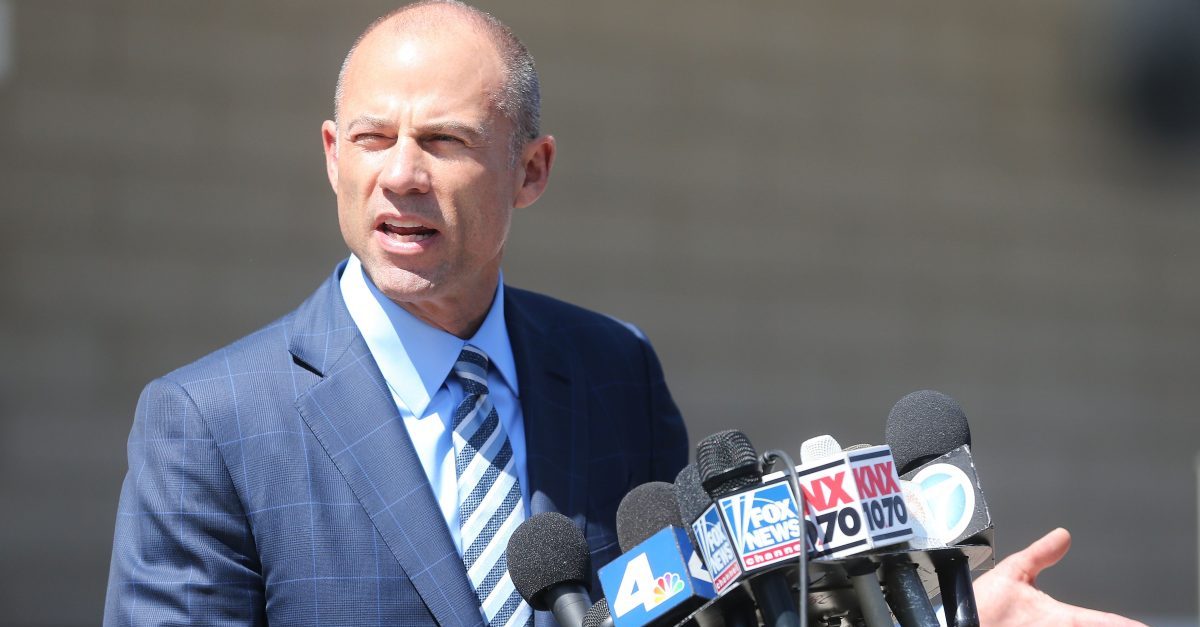 Statute of Liberty climber Patricia Okoumou believes she'll be in prison soon. In an apparent bid to foreclose against that result, Okoumou just retained the services of celebrity attorney Michael Avenatti.
Okoumou made a dire prediction on Facebook early Thursday morning. She wrote:
It is looking as if I am heading to prison. Please make sure people haven't forgotten about Lady Liberty Climber. The world has a short attention span. So, email, text AND call every group and organization that you know – including all those major television channels that reported my story on the Fourth of July. I cannot do this alone. Time is flying. Ask friends and other folks with large followers to tweet about me.
The immigrants' rights activist also took an acerbic jab at the media.
"Hold them accountable for not tweeting about my trial," she wrote. "Make noise!"
A later message cast an even more somber tone:
Sorry I let everyone down. Climbing the #StatueofLiberty was not heroic. There is no news coverage. They're waiting for the guilty plea to fill air space. I've been calling and emailing @maddowshow for an encore interview, but to no avail. I'm not a hero. I'm GOING to prison😰. https://t.co/8yqRrf2SC7

— (Official) Patricia Okoumou (@POkoumou) December 6, 2018
As of late Thursday afternoon, however, some of that asked for noise was made.
Avenatti announced his representation of Okoumou via Twitter.
"I am pleased to announce that I have joined the legal team defending activist Therese "Patricia" Okoumou at her request, Avenatti's statement notes. "I will be assisting lawyers Ron Kuby and Rhiya Trivedi in connection with the charges she faces relating to her alleged conduct on July 4 at the Statue of Liberty."
On July 4, 2018 Okoumou shocked and enraptured the nation by scaling the Statute of Liberty in order to protest the Trump administration's family separation policy. The 44-year-old Staten Islander has long been involved in activism but her fateful climb wasn't done as part of a group protest. She took that initiative herself.
For her protest, Okoumou was charged with disorderly conduct, trespassing and interference with government agency functions. She currently faces up to 18 months in jail. On October 1, she was denied a jury trial.
Avenatti made particular note of Okoumou's defiant and empathetic nature.
"Patricia and I are both passionate advocates of mothers, fathers and children separated at our southern border as a result of the draconian policies of Donald Trump and his cronies," his statement continued. "I look forward to assisting in her defense and cause."
Okoumou was similarly jubilant in announcing Avenatti's new role:
Excited @MichaelAvenatti joined my legal team! Thank you everyone for caring, tweeting and retweeting to bring attention to my trial and #ReturnTheChildren. To help Me: https://t.co/ZTk0NsrXQR. To learn more about me: https://t.co/8Uhr8LDttm #TeamAvenatti #GoodTrouble #staystrong https://t.co/uMLONA5Z0I

— (Official) Patricia Okoumou (@POkoumou) December 6, 2018
Law&Crime reached out to Avenatti for comment on this story but no response was forthcoming at the time of publication.
[image via Mario Tama/Getty Images]
Follow Colin Kalmbacher on Twitter: @colinkalmbacher
Have a tip we should know? [email protected]