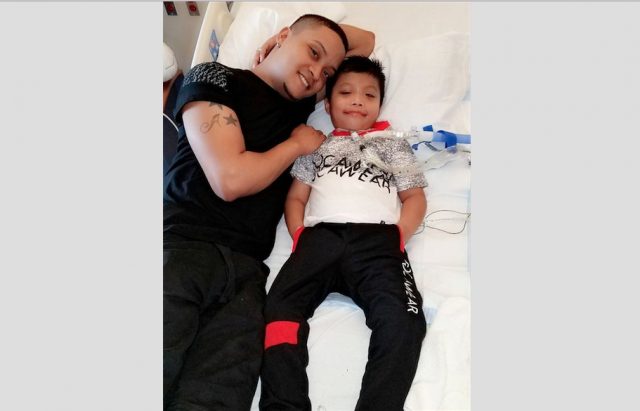 Officials with Immigration and Customs Enforcement ("ICE") said late Friday they plan to move forward with the deportation of a man who is the sole provider and caregiver of a six-year-old paraplegic boy.
ICE's Detroit office issued an emailed statement to The Cincinnati Enquirer confirming the status of the deportation after The Enquirer ran profile of the boy, Ricky Solis, in their Friday edition.
Yancarlos Mendez, 27, is the boy's caregiver and acting father–Solis' birth father left years ago after physically and emotionally abusing his mother, Sandra Mendoza. Mendez has been living with Solis and Mendoza since 2014. In late December of last year, however, Mendez was transferred to ICE after serving 30 days in the Butler County Jail over a charge of driving without a license.
Ricky Solis cried in the courtroom on the day that Mendez was transferred to federal custody–a transfer that only occurred due to the hardline anti-immigrant policies of Butler County Sheriff Richard Jones. Law&Crime reached out to Jones for comment on his office's responsibility for breaking the Mendez-Mendoza-Solis family apart, but no response was forthcoming at the time of publication.
The absence of a father figure has taken its toll on Solis and Mendoza. Solis weighs 58-pounds and Mendoza–barely able to lift the boy–has trouble bathing him. Since Mendez's arrest, Mendoza has struggled financially and cannot pay her rent. Meanwhile, Solis spends his days playing with fidget spinners, toy cars and patiently hoping his dad will return–he's even got a Christmas present waiting for him. Mendoza said, "Ricky asks where Daddy is. I tell him, `He will be home soon.'"
That's almost certainly not true. But certainly not for lack of trying.
The family's attorney, Nazly Mamedova, applied for a stay of Mendez's deportation to ICE, citing the reason as, "Medical condition of the child. Ricky, who is paraplegic and [in] need of special care 24/7, which only Yancarlos and mother can provide, because they are trained specially by Children's Hospital."
So far, however, ICE has proven unmoved by the story or the legal filing. Mendoza reacted to ICE's decision denying the stay of Mendez's deportation. In comments to The Enquirer, she said, while crying:
I can't believe this. Why is this happening? We know we were breaking the law, but we were just trying to live and take care of ourselves. Yancarlos has never done anything else bad. He is a good man. We want him to come home.
According to the statement issued by ICE, "[Mendez] entered the United States lawfully under the Visa Waiver Program (VWP) before violating the program terms by overstaying his visit for a period exceeding two years. VWP participants waive their rights to a hearing before an immigration judge and are subject to detention prior to their removal. ICE has carefully reviewed his case and determined he was ineligible for any agency relief, and as such will move forward with his repatriation to his home country."
Mendez is a citizen of both Spain and the Dominican Republic.
[image via Sandra Mendoza]
Follow Colin Kalmbacher on Twitter: @colinkalmbacher
Have a tip we should know? [email protected]