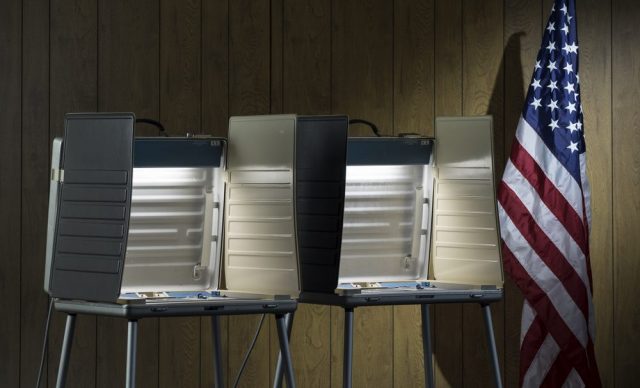 Prosecutors in Palm Beach County, Florida, issued a memo with the findings of their investigation into alleged voter fraud that revealed evidence that roughly two dozen voters had their signatures forged on absentee ballot request forms. Still, they have apparently dropped the investigation without filing any charges due to not having any suspects for the alleged offenses.
The alleged fraud is said to have taken place during last August's primary elections, where State Sen. Bobby Powell, Palm Beach County Commissioner Mack Bernard and state Rep. Al Jacquet, all Democrats, won their races. Bernard and Jacquet, you may recall, were under suspicion back in March, when they faced allegations of improperly going door to door and filling out voters' absentee ballots. These allegations resulted in the fraud investigation.
A memo from Detective Justus Reid Jr. dated June 22 described the steps taken in the investigation from the time he and other officers met with the County Supervisor of Elections, Susan Bucher, on July 11, 2016. The memo details how after investigating voter documents that had come under question, the number of possibly forged or altered papers were far less than first reported. Bucher had said there were about 2,000 absentee ballots or absentee ballot request forms that were suspected of being fraudulent. Investigators discovered that the number was really approximately 200, and that of those, only 25 request forms and six absentee ballots were found to be "possibly altered, forged, or obtained in a fraudulent way."
Still, forging signatures on these documents is a criminal offense. However, investigators don't know who signed the forged signatures.
The memo did point out that security video showed Delano Allen dropping off ballot request forms. According to The Palm Beach Post, the memo failed to mention that Allen had been an aide of Powell. The memo did point out that while having possession of other people's absentee ballots is generally against the law (except for official election personnel), having their request forms is not. The memo details failed efforts made to interview Allen, before they apparently gave up.
LawNewz.com asked the State Attorney's office why they made the decision to drop the case at this point in time, but they have not immediately responded.
Powell told the Post in an email, "At no point in the investigation was it indicated that my Senate campaign was investigated, nor was myself or my campaign ever contacted."
With the evidence they had, investigators could not name Allen or anyone else as a suspect in the case. The memo concluded that police did not suspect criminal activity involving the ballots themselves, just the request forms, but that even the evidence supporting that conclusion was not strong enough to support naming, arresting, and prosecuting any suspect.
[Image via Burlingham/Shutterstock]
Have a tip we should know? [email protected]