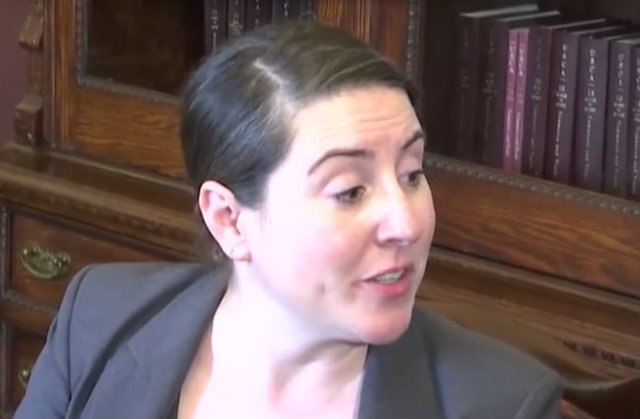 Leandra English isn't letting her lawsuit go. She is still pushing to be acting director of the Consumer Financial Protection Bureau. Even though Judge Timothy Kelly ruled against her request for a temporary restraining order on Tuesday, she promised to pursue an injunction to stop President Donald Trump from appointing Mick Mulvaney to the position. And she threw some shade along the way.
Unfortunately, the Federal Judge appointed by President Trump has denied the motion for TRO. We will continue to fight for the rule of law and will pursue an injunction.

— Leandra English (@DirectorCFPB) November 28, 2017
Kelly was in fact appointed by Trump. The Senate confirmed him 94-2 on September 5.
The feud stems from the resignation of former CFPB head Richard Cordray. He stepped down Friday, and appointed English, the new deputy director, as acting director. But Trump picked Mulvaney for the position. English sued, arguing that the spot belonged to her under the Dodd-Frank Act.
She could be facing an uphill fight. On Monday, a legal analysis piece by Law&Crime Senior Editor Ronn Blitzer showed that she might be misinterpreting the law. The Federal Vacancies Reform Act seems to authorize Trump to make his decision.
From his article:
First, she misstates the law by saying "the Vacancies Act, by its own terms, does not apply where another statute 'expressly . . . designates an officer or employee.'" The Act doesn't say it "does not apply," only that it is not the "exclusive means" for picking an Acting Director. Indeed, the CFPB's own General Counsel Mary E. McLeod refuted this argument in a memo sent the day before English filed her lawsuit.

…

Additionally, even if the FVRA would be overruled by a contradicting statute, it's unclear whether Dodd-Frank really contradicts it. Dodd-Frank says that the Deputy Director shall "serve as acting Director in the absence or unavailability of the Director." As McLeod noted, an "absence" typically means something temporary, where a "vacancy" would mean a permanent situation such as the one created by Cordray's resignation.
[Screengrab via Fox News]
Have a tip we should know? [email protected]