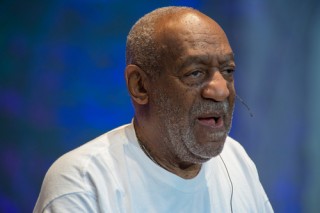 On Tuesday, there were two big developments in the criminal sexual assault prosecution of Bill Cosby: Not only was his trial date set for June 5, 2017, but the prosecution filed a 68 page motion to allow 13 other accusations to be used in court. The prosecution is arguing that under Pennsylvania Rule of Evidence 404(b), "prior bad acts" can be introduced to illustrate, in their words, a "common plan, scheme, or design" that demonstrates the "absence of a mistake."
While Pennsylvania law enforcement investigated "nearly 50 women allegedly victimized by" Cosby, they narrowed the list of allegations that the prosecution would like to at trial down to 13 "with an eye toward judicial economy." As has become Cosby's M.O., all allege that he drugged them before sexually assaulting them, and these are some of the details unique to each accuser:
Victim Number One alleges that Cosby attacked her "around the early 1970s" when she worked at the Playboy Club in New York City. After the alleged attack, she says Cosby was gone, but the limo they rode in was outside waiting to take her home.
Victim Number Two was an aspiring actress who met Cosby in 1984 and alleges that she was assaulted on the day that they met. She accepted his invitation to Harrah's, a Las Vegas hotel and casino, and before the trip, Cosby even "called and spoke to Prior Victim Number Two's parents and assured them that he wanted to give back to the industry that had been so good to him." After going to a house instead of Harrah's to "avoid paparazzi," Cosby allegedly gave Victim Number Two a script and asked her to read the lines of an intoxicated character that were on the page. That's when she recalls him giving her what she believes was a laced drink.
Victim Number Four met Cosby at a gift shop at the Las Vegas Hilton in the mid '70s, when she "was a teenager and aspiring model." She alleged that after inviting her to his show, he invited her backstage, where he gave her two pills after everyone else left. In a 2005 deposition, Cosby admitted to "meeting Prior Victim Number Four in Las Vegas, meeting her backstage, giving her Quaaludes, and engaging in sexual intercourse with her," according to the motion.
Victim Number Six met Cosby in 1990, and they became friendly enough that she would bring her to dinners with him and he would speak to her relatives on the phone, all under the guise of him being her acting mentor (Prior Victims Number Nine and Ten have a similar stories). While on one occasion,  he asked her to read a script for his sitcom that ended in her kissing him, and she was uncomfortable with him, nothing else happened at that time. The alleged assault didn't happen until 1996, when he "repeatedly insisted" she take a pill with red wine, saying "Would I give you anything to hurt you?" He was so insistent that he "took great efforts to ensure that she ingested the pill—demanding that she open her mouth and lift her tongue."
Victim Number Seven alleges 1975 assault at the Playboy Mansion after betting that the loser of a pinball game had to take a Quaalude.
Victim Number Eleven alleges that while attending a restaurant with Cosby in the early '80s, she "was served an alcoholic beverage, without making an order, and defendant was served food." Cosby "insisted that she drink the beverage" and "was refused food by defendant when she attempted to take food from his plate." She believes the drink was drugged, leading to her being raped after he took her to his hotel room.
In 1969, while working as a model, Victim Number 13 told Cosby that she had a headache. She says he gave her a pill that he "claimed was 'a miracle cure from the doctors.'" When she asked what exactly it was, "defendant avoided the question, saying it was from his doctor and would really 'fix you up.'"
Of course, Cosby's lawyers will fight this motion tooth and nail. If the 13 prior allegations are allowed at trial, that could be very, very bad for him.
Have a tip we should know? [email protected]