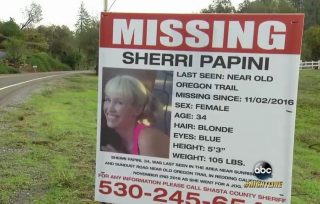 Details in the case of Sherri Papini, a mother from Redding, California who disappeared earlier this month before returning home battered and bruised weeks later, have emerged, but much of what happened to her remains a mystery. Papini vanished after allegedly being abducted while jogging on November 2. When she reappeared on Thanksgiving, her hair had been cut, she appeared starved (weighing just 87 pounds), and had various injuries. The sparse, but gruesome details have led to conspiracy theories that the entire story was made up. However, new information from the sheriff's office and her husband, including reports that Papini was found in chains and had been branded, indicate that this nightmare may have been very real indeed.
Two witnesses say they spotted Papini during the weeks she was gone. The second was a motorist who found her on the side of a road and called 911. The first was Christine Everson, who said that she saw a woman fitting Papini's description sitting in a truck at a rest stop in Redding two days before authorities found her. Everson said that when two men who had been in the truck got out, she went over to the woman who may have been Papini. Everson says she asked the woman if she was ok, but didn't get a straight answer.
"'I said, 'This looks like Sherri Papini here,'" Everson told The Daily Mail. "So I walked over, the guys had left the car, I walked over and her window was down a little." Everson asked if the woman was being kept against her will, but didn't get a response. "I said, 'I'd be willing to meet you in there and we can make arrangements for you if you are being trafficked, or there is a phone number in there and we have safe houses here in Redding.' She said 'thanks,' that's all she said to me and put her head down. Something wasn't right." Everson says she then called police and reported the vehicle the woman was in.
Two days later, Papini was found about 150 miles away.
"Why was she taken and for what reason?" Shasta County Sheriff Tom Bosenko asked in an interview with People Magazine. "That is what we are trying to determine now."
Papini claimed that her captors were two Hispanic women in a dark SUV, Bosenko said. A letter with anti-Hispanic comments circulating online that has been attributed to Papini. This has led some to doubt her story. Bosenko, however, says that those words appear to be "dated material." He said, "We don't believe that that had any correlation or relevance to her abduction." It's not even clear if Papini even wrote the letter.
Bosenko explains that the lack of details is not necessarily an indication that the Papini's story is a fabrication. "Sometimes people who have been in a traumatic event, their mind shields them from some of the trauma so they do have limited recollection," he said. "Also if you try to push to get some of those details people can shut down and not want to re-experience or try to recall some of those bad memories. So that was what we were experiencing on Thanksgiving Day."
Since Papini is allegedly the victim of a crime, Bosenko says they didn't ask her to take a lie detector test. "We don't have any reason not to believe her," he said. Papini's husband Keith did take one, and he passed. Keith Papini issued a lengthy statement about his wife's ordeal to ABC's 'Good Morning America.' He addressed the rumors, saying, "I understand people want the story, pictures, proof that this was not some sort of hoax, plan to gain money, or some fabricated race war. I do not see a purpose in addressing each preposterous lie."
Keith described his wife's condition when he first saw her, saying she was "covered in multi colored bruises, severe burns, red rashes, and chain markings. Her signature long, blonde hair had been chopped off. She has been branded and I could feel the rise of her scabs under my fingers. She was thrown from a vehicle with a chain around her waist, attached to her wrists and a bag over her head." Those were the most details he offered, saying that his family prefers to be private and that Sherri's condition is not as bad as people have speculated. Still, he says it will take time to get over the ordeal. "This will be a long road of healing for everyone."
[Image via ABC News screengrab]
Have a tip we should know? [email protected]