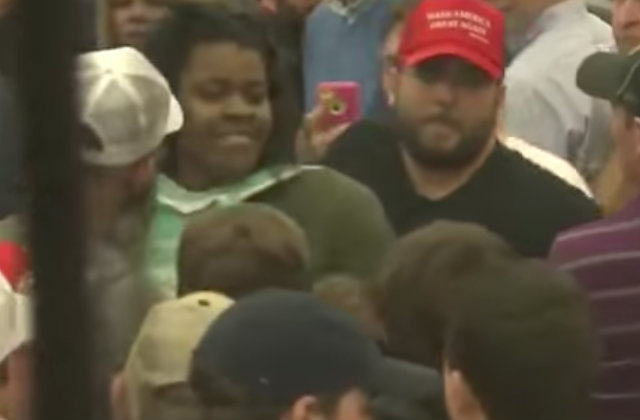 The Pikeville Police Department just served a criminal summons to a white nationalist for shoving a woman at a 2016 Trump rally. Matthew Heimbach faces one misdemeanor count of harassment with physical contact but no injury to the victim, according to The Lexington Herald Leader. We reached out to him for comment.
This is tied to a widely reported incident from March 1, 2016 in Louisville, Kentucky. Then-candidate Donald Trump spoke in front of a crowd of supporters when opponents, including 21-year-old Kashiya Nwanguma, started protesting.
"Get 'em out of here," Trump said.
Video shows several supporters, including what appears to be Heimbach in a red hat, shoving Nwanguma. This begins at 0:30 of the video.
Cue a series of legal actions. Nwanguma and two other protesters sued in federal court, claiming Trump incited violence against them by saying "Get 'em out of here." The President's lawyers answered by claiming that as head-of-state, he was immune from lawsuits. (The 1997 Supreme Court case Clinton v. Jones held that POTUSes aren't immune from civil litigation arising from incidents previous to their taking office.)
Heimbach actually countersued in April, claiming he was just following Trump's orders, and that if he were to lose the case, liability should shift onto Trump. This leader of the Traditionalist Youth Network was charged over this incident along with two other men, the Louisville Metro Police told WDRB back in July. As part of his work, he has gone off on "Zionists," same-sex relationships, interracial relationships, Mexican immigrants, Muslims, and "black supremacists,"according to a report from the Southern Poverty Law Center.
[Screengrab of Kashiya Nwanguma and Matthew Heimbach via WLKY]
Have a tip we should know? [email protected]