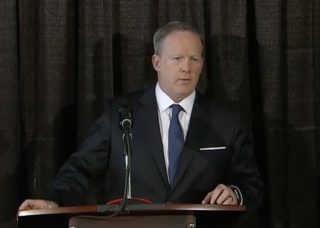 White House spokesman Sean Spicer is defending against allegations that President Trump's decision to launch nearly 60 cruise missiles at a Syrian airbase on Thursday, without warning, was not against U.S. or international law.
According to the Associated Press, Spicer spoke on the matter a brief press conference in Palm Beach, FL on Friday, telling reporters the decision came after a "72-hour evolution," presumably by the president.  He did mention earlier this week that the reported chemical attack in Syria changed his outlook on the Assad regime.
Spicer added that he was confident the attacks are "justified and proportional" response to the Assad regime attacks on Tuesday that reportedly left dozens of civilians dead.  He said Trump was presented with a number of options for a possible U.S. response by his Cabinet and national security team, all of whom were confident the Syrian regime was behind the attack.
A final decision to order the cruise missile strike was then made prior to dinner with China's President Xi Jinping.  Trump, according to Spicer, then informed Xi of the attack during the diner Thursday night.
[image via screengrab]
Have a tip we should know? [email protected]