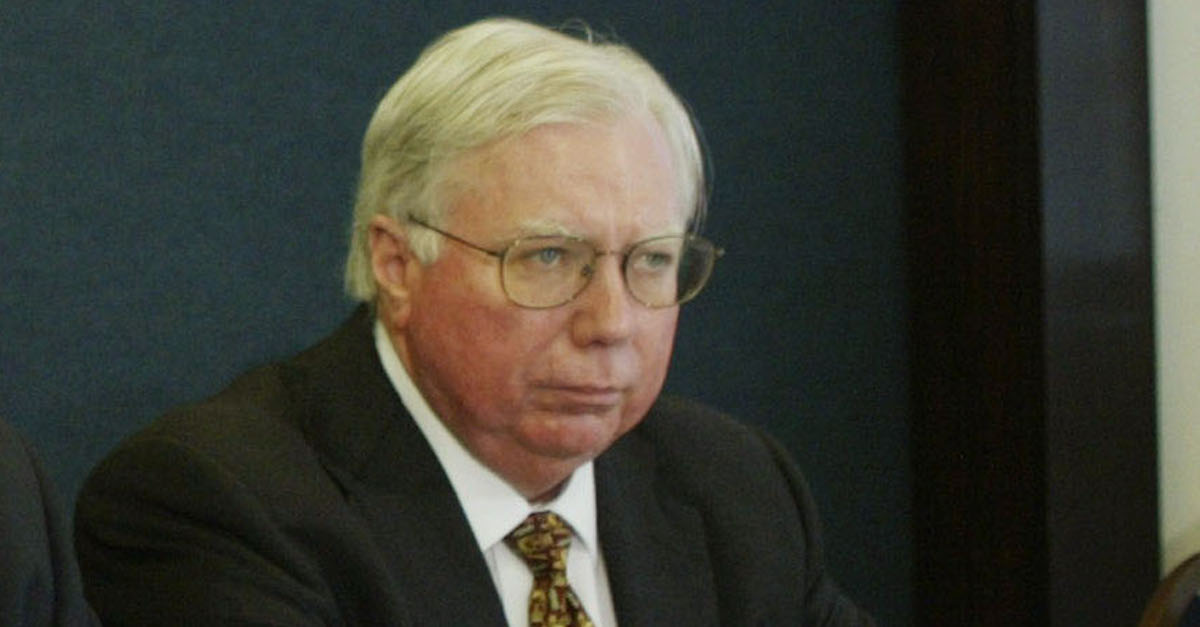 A draft of a document that Special Counsel Robert Mueller's office may have wanted right-wing author Jerome Corsi to sign as part of a plea deal has some pretty damaging information, but it's what's not in there that could be even more important, according to Lawfare editor-in-chief Benjamin Wittes. The draft of the Statement of Offense lays out coordination involving Corsi and unnamed parties said to be Roger Stone, WikiLeaks, and Julian Assange.
The document includes a number of tidbits like this one that describe Corsi's activities:
On or about July 25, 2016, Person 1 sent an email to CORSI with the subject line, "Get to [the founder of Organization 1]." The body of the message read: "Get to [the founder of Organization 1] [a]t Ecuadorian Embassy in London and get the pending [Organization 1] emails . . . they deal with Foundation, allegedly."
It also says that Corsi deleted emails that included instructions from "Person 1" telling Corsi to "get to [the founder of Organization 1]" and a record of Corsi forwarding this to a contact overseas.
The Statement of Offense would be part of a plea to providing false statements to investigators, and the draft says that Corsi lied about his involvement with Person 1 and Organization 1.
"Person 1" was identified as Roger Stone and "founder of Organization 1" was identified as WikiLeaks founder Julian Assange on Tuesday.
Wittes said in a Twitter thread that while this is just a draft and not an official document, it could be very telling, and could mean "there may be some big shoes left to drop" in the form of a Corsi indictment.
I will reserve comment on this until we see a document that isn't a draft, but I will say this: If these are the facts to which Mueller was willing to let Corsi plead, there may be some big shoes left to drop when the actual indictment becomes public. https://t.co/JnmHrIm9Rv

— Benjamin Wittes (@benjaminwittes) November 28, 2018
Wittes went on to say that the information in the document sounds like collusion, and also includes evidence of a cover-up. The document notes, "These facts do not constitute all of the facts known to the parties concerning the charged offense," which led Wittes to speculate about what was not included.
"One wonders what the activity NOT described here is–the charges Mueller was willing to let go for a plea, for starters," he said. That information could potentially get out, now that Corsi is not taking a plea. Wittes also wondered if there might be more to come about Stone, and even President Donald Trump himself.
One wonders not just about the shoes left to drop about Corsi. One wonders it also about Stone. And one wonders it about the "senior members of the Trump Campaign, including … then-candidate Donald J. Trump" whom Corsi "understood to be regular contact" with Stone. see para 3

— Benjamin Wittes (@benjaminwittes) November 28, 2018
Corsi, meanwhile, has said that he backed out of plea negotiations, claiming that Mueller's office wanted him to admit to things that weren't true.
"They can put me in prison the rest of my life. I am not going to sign a lie," Corsi told CNN.
[Image via Matthew Cavanaugh/Getty Images]
Have a tip we should know? [email protected]