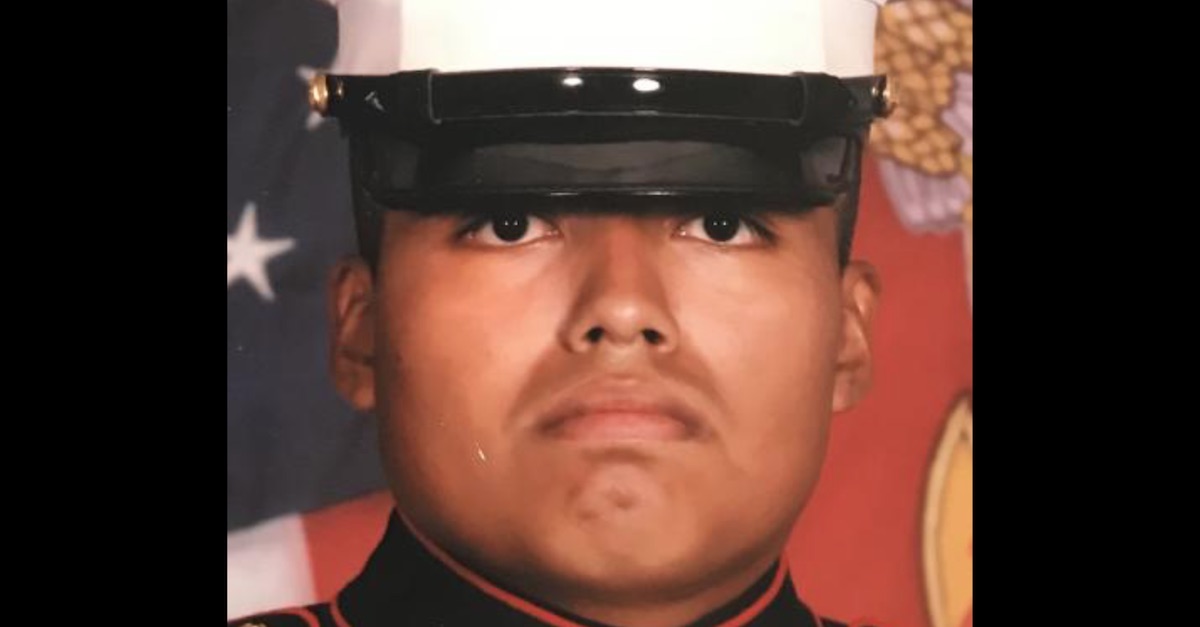 The Michigan chapter of the American Civil Liberties Union (ACLU) is demanding answers from the Kent County Sheriff's Department as to why Jilmar Ramos-Gomez, a decorated U.S. Marine veteran born in Michigan who served from 2011-2014, was arrested and handed over to Immigration and Customs Enforcement (ICE) for deportation.
The ACLU said that Ramos-Gomez was handed over to ICE on Dec. 14, 2018, weeks after he was arrested on Nov. 21 for allegedly damaging a fire alarm while trespassing on a heliport — all of this, despite the fact that Ramos-Gomez "was born in Grand Rapids, grew up here, and bravely served our country in Afghanistan." The ACLU is demanding that the sheriff's department conduct an investigation and provide an update on its findings at a county meeting on Jan. 24.
The ACLU blames the "terrible incident" on the "predictable consequence of the Sheriff's Department's decision to volunteer its resources to support ICE's efforts to deport Kent County residents."
Ramos-Gomez was a lance corporal and a tank crewman who received the national defense service medal, war on terror service medal, a combat action ribbon, and more for his service. Ramos-Gomez has suffered from PTSD since his return home.
"Why did they think he was a non-citizen? Did they get him confused with someone else? Who knows," ACLU attorney Miriam Aukerman said. "This is an individual who's incredibly vulnerable with a mental illness."
"We are outraged," the ACLU would add.
This is how the police report is said to have described what happened when authorities encountered and arrested Ramos-Gomez:
According to the police report, Ramos-Gomez had his passport on him when he was arrested. He pled guilty to a trespassing charge, and the judge ordered him released on a personal recognizance bond on Friday, December 14, 2018, pending a pre-sentence investigation. At that point, the Kent County Sheriff's Department should have immediately released Mr. Ramos-Gomez. Instead, the Sheriff's Department worked with ICE agents to enable his transfer to an immigration detention center in Calhoun County to start the deportation process. Publicly available jail records show that Mr. Ramos-Gomez was subject to a detainer, i.e. an ICE hold, and that the jail turned him over on December 14, 2018. It is unclear how that was possible or why the jail believed it should hand Mr. Ramos-Gomez over to ICE, rather than release him as required by the court order.

What we know is that when Mr. Ramos-Gomez's mother arrived at the jail to bring him home, she was told that he was in ICE custody. Not until Monday, December 17, 2018—after Mr. Ramos-Gomez had spent three days in the Calhoun immigration detention center—was his family able to secure his release from ICE, through his attorney Richard Kessler. His mental health has deteriorated even further as a result of his unlawful incarceration.
The ACLU is citing the Freedom of Information Act (FOIA) to obtain police records relating to Ramos-Gomez.
Kent County Undersheriff Chuck DeWitt has said, "Our procedures were followed," adding that once Ramos-Gomez was "released from our custody, he was under the domain of ICE. Where they take him is their process."
ICE hasn't responded. The Detroit-area spokesman reportedly said he could not respond due to the ongoing government shutdown.
[Image via U.S. Marine Corps]
Have a tip we should know? [email protected]