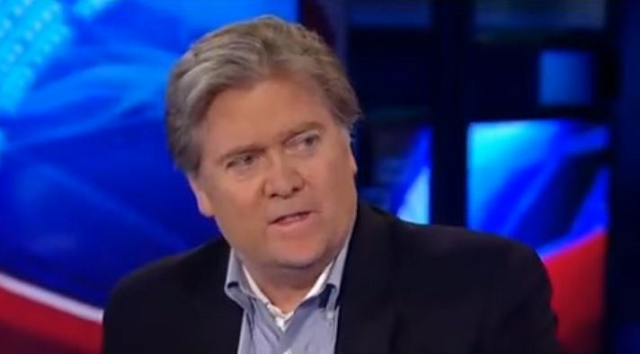 The Campaign Legal Center, a non partisan watchdog group, has filed new evidence with the Federal Election Commission, which they say shows that a Trump supporting super PAC illegally compensated Steve Bannon, Trump's current White House Chief Strategist, during the campaign.
The group also alleges that the same super PAC, Make America Number 1, engaged in unlawful coordination by using a common vendor. The PAC was initially founded to fight Hillary Clinton, and most of the donations came from conservative high-dollar donor Robert Mercer, the billionaire. Mercer was initially a Ted Cruz supporter, but threw his support behind Trump after Cruz was out of the race.
The FEC letter that the Campaign Legal Center sent to the commission alleges that Make America Number 1 appeared to have paid Bannon through two "cover" firms, Glittering Steel LLC, and Cambridge Analytics. The letter contends that those companies are incorporated at the same address as Bannon's consulting firm, Bannon Strategic advisors. Federal law prohibits super PACs from coordinating with official campaigns.
"The evidence suggests that the Mercer-backed super PAC secretly subsidized Bannon's work for the Trump campaign by payments to 'Glittering Steel,' which we now know has been chaired and is owned by Bannon and which paid him a monthly consulting fee," Brendan Fischer, director of the federal and FEC reform program at the Campaign Legal Center, said in a statement obtained by LawNewz.com.  
The letter filed Wednesday was a supplement to an original complaint that the organization first filed with commission back in October.
The watchdog group also sent a letter to California's Attorney General asking for an investigation into whether the firms that received Bannon's payments are complying with state law. Specifically, the group contends that Glittering LLC is registered in Delaware but engages in a practice of intrastate practice in California.
"Bannon's company appears to have dodged the California disclosure requirements that would provide more public information that could inform whether it broke federal campaign finance law," said Fischer.
LawNewz.com has emailed the White House for comment on this story.
Have a tip we should know? [email protected]
Rachel Stockman - President / On Air Host