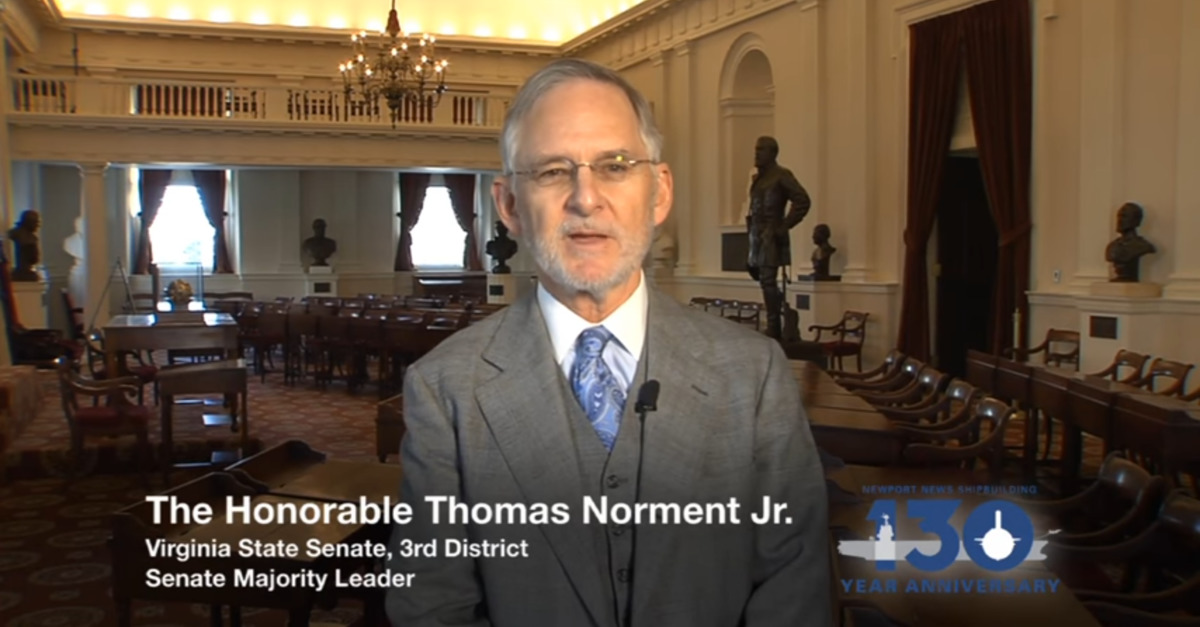 The almost exponential blackface scandal ensnaring the state's top Democratic leadership has now reached the upper echelons of the Old Dominion's Republican Party.
According to The Virginian-Pilot, State Senator Tommy Norment was the editor of a yearbook in 1968 at the Virginia Military Institute (VMI) known as "The Bomb." Under Norment's editorial leadership, "The Bomb" featured a bevy of racist imagery and racial slurs–blackface included on numerous occasions.
The Norment-edited yearbook also uses the N-word, refers to a Thai student as a "Chink" and "Jap," and features the following anti-Semitic sentence underneath another man's picture: "He was known as the 'Barracks Jew' having his fingers in the finances of the entire Corps."
Norment personally authored a lengthy passage in the yearbook's page reserved for editorial staff:
It has been the objective of this year's Bomb staff to concentrate on the VMI as it exists in actuality, not in theory. There is an ever-broadening chasm between the two positions. With the completion of this editorial and the 1968 Bomb, I regretfully leave behind the theme 'Honor Above Self' and the loyalty of a few selected Brother Rats. Work on the Bomb has permitted me to release four years of inhibitions. And now, I am sorry our work is completed. It is a feeling only genuinely understood by those of us who labored in the 'den of inequity.'
When approached about his own apparent history of propagating racist imagery, Norment declined to address the issue.
"The only thing I'm talking about today is the budget," he told the Pilot before entering a meeting with his caucus members, "I'm here to pass a budget today."
The revelation is particularly noteworthy because Norment is the current Republican Majority Leader of the Senate of Virginia. And, according to the Virginia Constitution, this position puts him fourth in line of succession to the governor's office. And this consideration isn't exactly what one might term "academic."
Virginia's Democratic Governor Ralph Northam ignited a firestorm of controversy after it was revealed late last Friday that his yearbook page contains a picture of a man in blackface standing next to another man outfitted in Ku Klux Klan Robes. As Law&Crime previously reported, Northam has insisted he's going nowhere–despite near-unanimous calls for his immediate resignation.
Virginia Lieutenant Governor Justin Fairfax, also a Democrat, is also currently embroiled in a scandal of his own. Vanessa Tyson alleges that Fairfax forced her to perform oral sex on him during the Democratic National Convention in Boston in 2004. Fairfax has vehemently denied the allegations–but is also facing calls to resign.
Second in line to replace Northam should he eventually resign or be forced out of office is Virginia's Democratic Attorney General Mark Herring. The progressive attorney general added fuel to the fire by issuing an apologetic statement on Wednesday noting that he, too, had once worn blackface–though Herring claimed it wasn't in an attempt to be racist, but to dress up like one of his favorite rappers.
[image via screengrab/Huntington Ingalls Industries]
Have a tip we should know? [email protected]