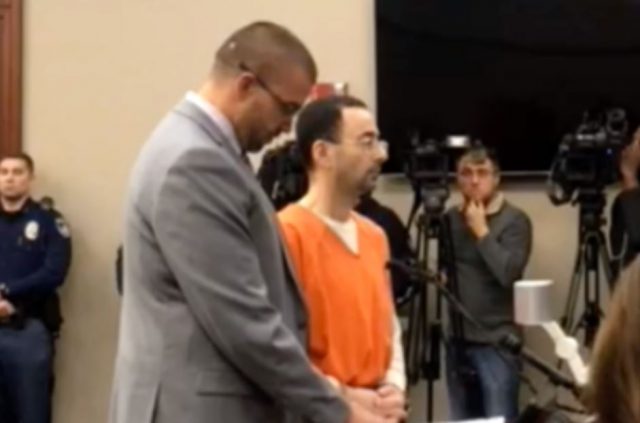 Former USA Gymnastics and Michigan State University doctor Larry Nassar was recently convicted of sexually assaulting multiple women and underage girls under his care, after facing allegations from more than 140 people. Now, a new report indicates that at least a dozen of the accusers were allegedly abused during a criminal investigation, while Nassar was permitted to continue working at the university.
According to the Lansing State Journal, Nassar was first the subject of a Title IX investigation in April 2014 when a Michigan State student accused him of sexual assault during an examination. That investigation lasted three months, and resulted in no findings of wrongdoing, and MSU allowed Nassar to return to work at that point. This was about a year before campus police wrapped up a criminal investigation and 16 months before prosecutors finished assessing the case. The Ingham County Prosecutor's Office decided not to move forward with the case. Public records obtained by the State Journal showed that at least 12 women and girls claimed that Nassar assaulted them during the time of the criminal investigation.
The initial decision not to prosecute came before dozens of other women (including USA Olympic champions McKayla Maroney, Ali Raisman, and Gabby Douglas) stepped forward with additional allegations, sparked by a massive Indianapolis Star report on abuse allegations directed against Nassar.
After the report came out, more women stepped forward, and Michigan Attorney General Bill Schuette filed charges, ultimately leading to Nassar's conviction.
MSU had the power to keep Nassar suspended for the duration of the initial criminal investigation, which started in early 2014 and ended in December 2015, but they opted to let him keep working after the Title IX investigation. School spokesperson Jason Cody said that the Title IX matter reached an appropriate conclusions based on the information they had at the time, but said he could not explain why it ended before the criminal investigation finished.
[Image via screengrab]
Have a tip we should know? [email protected]