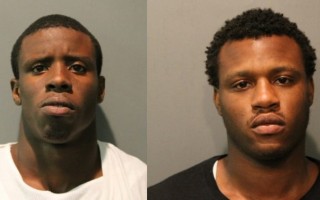 Police said Sunday morning that two brothers were arrested and charged for the murder of Nykea Aldridge, cousin of NBA star Dwyane Wade. Aldridge, who had four children, was accidentally struck by a bullet while walking with a stroller in Chicago Friday afternoon. Aldridge was shot in the arm and head, and pronounced dead at a hospital.
Chicago Police Communications Director Anthony Guglielmi announced that Derren and Darwin Sorells had been apprehended and charged overnight.
Overnight, CPD charged the Sorrells brothers for the murder of Nykea Aldridge. Press briefing at 1130 @ CPD HQ pic.twitter.com/mEJyoZY3F4

— Anthony Guglielmi (@AJGuglielmi) August 28, 2016
Guglielmi tweeted that Derren, 22, is a known member of the Gangster Disciples gang and is currently on parole. He said that Darwin, 26, is also on parole, after being released early from a six-year sentence for a gun charge. He had been sentenced in January 2013.
Have a tip we should know? [email protected]