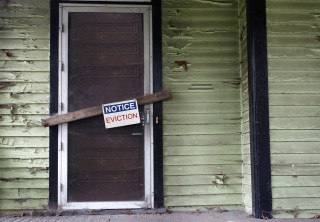 Here's one to brighten you Sunday morning. Twitter users have been sharing their stories about getting kicked out of their homes under the hashtag #WhyIGotEvicted. Some appear real, some clearly made up, but all humorous.
In reality, eviction can take place for a number of reasons having to do with violating the terms of one's lease. It could be for failure to pay rent, continuously disturbing neighbors with loud noise, or drug use, to name a few. Here are some of Twitter's best:
#WhyIGotEvicted apparently 4 dogs & 4 cats are too many pets

— Tiffany Marin Jones (@Tiffers919) August 28, 2016
#WhyIGotEvicted I shaved my beard off and glued it to my neighbor's door

— Dear Love (@HyperCityAngel) August 28, 2016
#WhyIGotEvicted
I got caught selling the leasing office furniture on Craigslist.

— Seth (@sethshaffer) August 28, 2016
I guess people don't like tap dancing as much as they used to. #WhyIGotEvicted pic.twitter.com/UqmO3Tb7xA

— Chloe (@chenning81) August 28, 2016
#WhyIGotEvicted
Apparently the morgage company doesn't accept Monopoly money

— funny shite (@HuttonEwan) August 28, 2016
I'm sure we can all learn some valuable lessons from others' mistakes.
[Image via Shutterstock]
Have a tip we should know? [email protected]