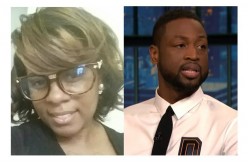 On Friday, the cousin of Chicago Bulls guard Dwyane Wade was shot and killed in Chicago, Illinois. He announced her death on Twitter shortly after the incident.
My cousin was killed today in Chicago. Another act of senseless gun violence. 4 kids lost their mom for NO REASON. Unreal. #EnoughIsEnough

— DWade (@DwyaneWade) August 27, 2016
32-year-old Nykea Aldridge was a mother of four and was apparently killed for no reason. Police told WLS-TV she was pushing one of her kids in a stroller, having just left an elementary school. That's when two men open fired on a third, but bullets accidentally struck Aldridge in the head and arm. Deputy Chief James Jones said she had nothing to do with the fight, just an innocent bystander. She was pronounced dead at the hospital.
The investigation is ongoing, and witnesses were still being questioned as of early Saturday.
Wade and his mother Pastor Jolinda Wade, have publicly spoken against gun violence in the city, both of them speaking at an ESPN event on Thursday.
"Just sat up on a panel yesterday, The Undefeated, talking about the violence that's going on within our city of Chicago, never knowing that the next day we would be the ones that would be actually living and experiencing it," Pastor Wade said at the hospital while comforting her sister, Aldridge's mother.
This incident doesn't seem to have broken the pastor's resolve.
"We're still going to try and help these people to transform their minds and give them a different direction, so this thing won't keep happening," she said. "We're still going to help empower people like the one who senselessly shot my niece in the head."
–
Follow Alberto Luperon on Twitter (@Alberto Luperon)
Have a tip we should know? [email protected]