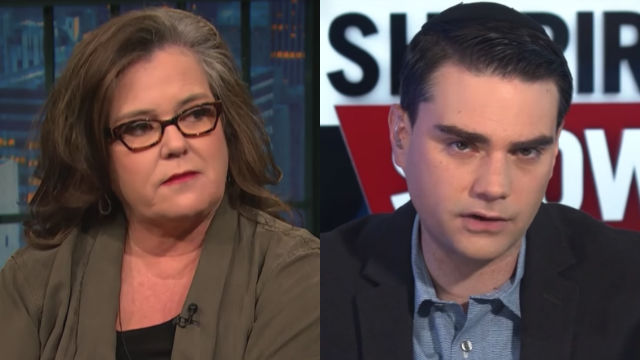 Rosie O'Donnell and Daily Wire editor-in-chief Ben Shapiro had a bit of a Twitter spat last week after the right-wing pundit called her out for arguably trying to bribe Republican Senators to vote against the GOP tax bill. Since then, Shapiro reported Rosie to Twitter for an off-color remark, leading the social media company to remove the offending tweet.
The online battle got rather carried away, especially after Shapiro said that President Donald Trump would be carved into Mount Rushmore if he had Attorney General Jeff Sessions investigate the former talk show host.
O'Donnell responded by saying, "suck my dick ben."
Friday morning, Shapiro tweeted that he reported Rosie's vulgar tweet.
Just reported @Rosie for targeted harassment, mainly to see if Twitter does indeed have a double standard. Everyone knows if Rosie were conservative, Twitter would suspend her in a hot second. So, Twitter, put your money where your mouth is. #MeToo

— Ben Shapiro (@benshapiro) December 22, 2017
Shapiro later made it clear that his request was meant to test Twitter's policies, not to have O'Donnell punished.
It's an attempt to clarify Twitter's standards. I don't actually want them to ban or suspend Rosie. I want them to stop applying their own rules inconsistently. https://t.co/3osiWM7aEI

— Ben Shapiro (@benshapiro) December 22, 2017
The initial result seemed to be exactly what Shapiro expected, as Twitter notified him that Rosie's tweets did not violate their rules against abusive behavior.
Surprise of surprises, Twitter says that @Rosie's tweets were not in fact abusive in any way under their rules. Good to know. pic.twitter.com/6tMuIWRgth

— Ben Shapiro (@benshapiro) December 22, 2017
Later in the weekend, however, Twitter appeared to have a change of heart, and on Sunday, Shapiro shared a second email he received, which informed him that Rosie did in fact violate Twitter's terms, and that the offending language would be removed.
Well, looks like Twitter had some second thoughts about @Rosie's obscene tweets pic.twitter.com/O036JB8Ego

— Ben Shapiro (@benshapiro) December 24, 2017
[Images via screengrab]
Have a tip we should know? [email protected]