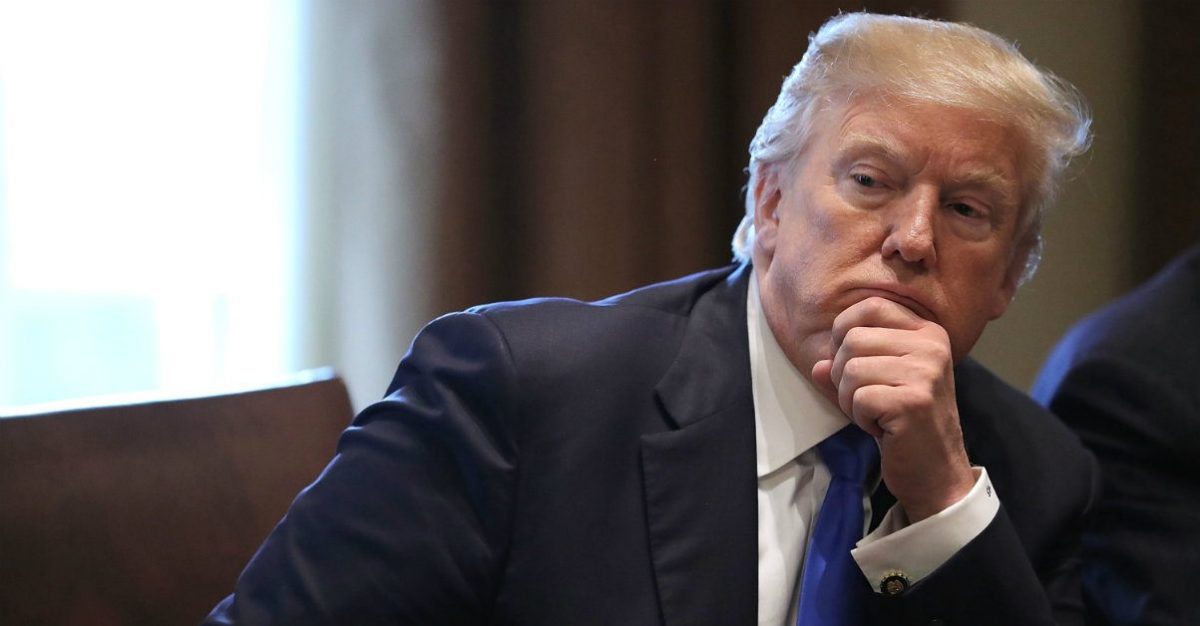 In the wake of the announcement that White House Counsel Don McGahn is leaving his position in the coming months, there has been speculation that this could be bad for President Donald Trump, especially since McGahn has cooperated with Special Counsel Robert Mueller, reportedly spending 30 hours talking to his team about issues including those related to obstruction of justice. Well, now it looks like Trump is getting ready to combat accusations of obstruction, if his Thursday morning tweets are any indication.
First, at 7:02 a.m. D.C. time, Trump railed — again — against the media, this time targeting NBC News.
"When Lester Holt got caught fudging my tape on Russia, they were hurt badly!" Trump claimed.
What's going on at @CNN is happening, to different degrees, at other networks – with @NBCNews being the worst. The good news is that Andy Lack(y) is about to be fired(?) for incompetence, and much worse. When Lester Holt got caught fudging my tape on Russia, they were hurt badly!

— Donald J. Trump (@realDonaldTrump) August 30, 2018
That appears to be a reference to the interview Trump gave with Holt after he fired FBI Director James Comey. That firing was viewed by critics as possible obstruction of justice, as Comey was leading the FBI's investigation of Trump campaign ties to Russian election interference. At first, the termination of Comey was justified by the recommendation of Deputy Attorney General Rod Rosenstein, who addressed Comey's performance without blaming it on the Russia probe. Then Trump gave his interview and appeared to tell a different story regarding his thought process when he decided to fire Comey.
"When I decided to just do it, I said to myself, I said, 'You know, this Russia thing with Trump and Russia is a made up story, it's an excuse by the Democrats for having lost an election….'"
Connecting Comey's firing to his feelings about the Russia probe (which eventually was taken over by Special Counsel Robert Mueller) seemed to undermine any explanation that the decision was based on other reasons. Trump also said during the interview that he had made the decision to fire Comey before he even received Rosenstein's recommendation.
Now, Trump is claiming that the video of the Holt interview was doctored in some way. This caught some people by surprise, and it seems to be his new strategy in defending himself against possible obstruction allegations. The NBC interview could be a key piece of evidence, so the president is now calling its validity into question.
Just over two hours after the previous tweet, Trump went out of his way to say that the Russia investigation didn't have anything to do with McGahn's departure either, lest anyone accuse him of obstruction for that.
"The Rigged Russia Witch Hunt did not come into play, even a little bit, with respect to my decision on Don McGahn," he said.
The Rigged Russia Witch Hunt did not come into play, even a little bit, with respect to my decision on Don McGahn!

— Donald J. Trump (@realDonaldTrump) August 30, 2018
[Image via Chip Somodevilla/Getty Images]
Have a tip we should know? [email protected]