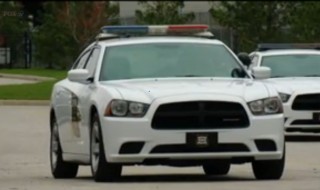 A woman is suing an Indiana State Police trooper after the trooper allegedly took it upon himself to turn a traffic stop into a proselytizing session of sorts. Wendy Pyle, through her attorney's at the ACLU of Indiana, filed the lawsuit this week in federal court. She says Trooper Brian Hamilton pulled her over to give her a warning ticket. He then, according to the lawsuit "proceeded to prolong the stop by asking Ms. Pyle what church she attended and whether she had been saved. He then told her about his church and gave Ms. Pyle directions to it." The trooper then proceed to place her on the church's prayer list, according to the court documents.
Interestingly, this same officer has been sued on another occasion, also for trying to spread the Christian word. The lawsuit contends that Ms. Pyle "found it intimidating to be blocked in by Trooper Hamilton while he asked her extremely personal and inappropriate questions."
"When he's engaged in the official acts of his job, especially when he's a police officer, those kinds of stops are inherently coercive. That is not the time to be talking to people about their religion," Richard Waples, an Indianapolis civil rights attorney told Fox 59.
The lawsuit contends that the trooper violated her Fourth Amendment rights by keeping her an unreasonably long amount of time at the traffic stop. Her attorney also contends that the trooper violated her First Amendment Right by proselytizing and asking coercive questions during the stop.
The previous case against Hamilton was settled, with Trooper Hamilton receiving employee behavior counseling, according to the lawsuit.
The IndyStar reports: "ISP Capt. Dave Bursten said Hamilton is no longer on patrol and was moved to an administrative desk job Jan. 15 after a complaint was filed against him." It's unclear if the desk duty job is connected to this most recent lawsuit.
[h/t Washington Post]
Have a tip we should know? [email protected]
Rachel Stockman - President / On Air Host