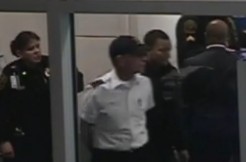 Michigan Police recently arrested a pilot for allegedly trying to fly a plane drunk. It's almost like the Denzel Washington movie Flight, except way less life affirming.
American Airlines told ABC News it happened March 26. A TSA screener reportedly guessed that the co-pilot, John Maguire, was sloshed when he arrived for his flight at Detroit Metropolitan Airport. This person notified a manager, who in turn notified authorities. Cops escorted Maguire off the plane, and took him to a TSA holding room. (Obviously, the flight to Philadelphia was canceled.) When asked if he had been drinking, he said he hadn't touched alcohol since the night before.
Whether or not that's true, he allegedly failed the breathalyzer test, blowing 0.081 percent. Turns out the legal limit for pilots is .04, and pilots are prohibited from imbibing within 8 hours of a flight.
"This is a serious matter and we are assisting local law enforcement and the Federal Aviation Administration with the investigation," American Airlines said in a statement sent to ABC News. "We will handle this matter appropriately as the safety and care of our customers and employees is our highest priority."
Prosecutors in Wayne County charged Maguire with operating under the influence of alcohol. Maguire has yet to enter a plea, but was released pending an arraignment.
[h/t ABC]
[screengrab via ABC]
–
Follow Alberto Luperon on Twitter (@Alberto Luperon)
Have a tip we should know? [email protected]