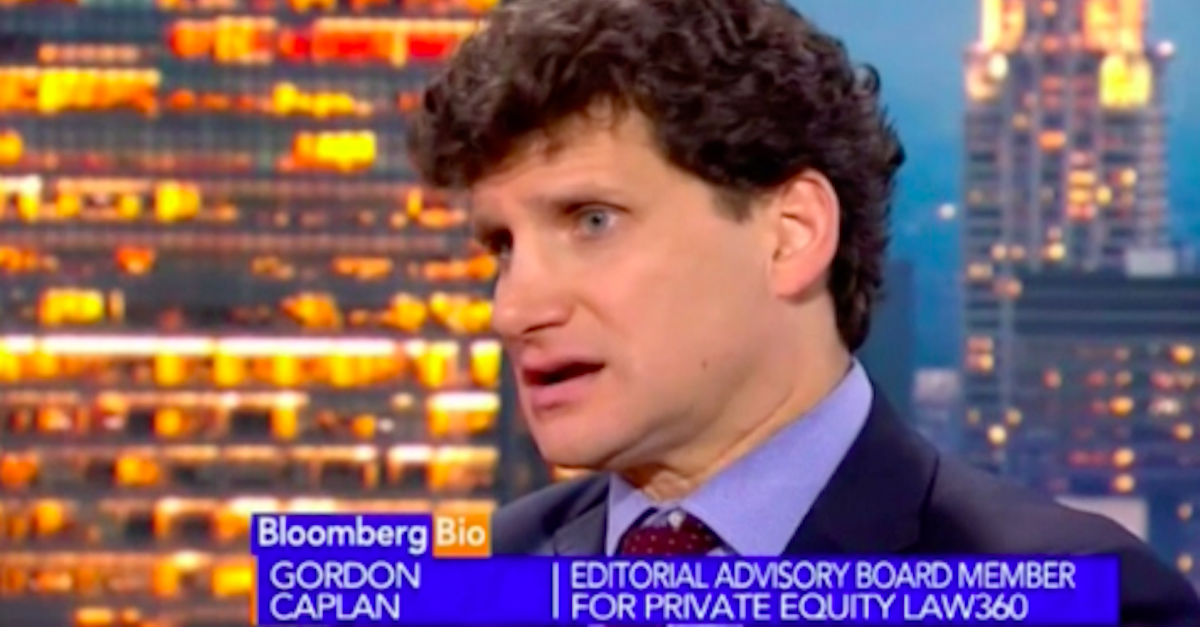 The former co-chairman of the international law firm Willkie Farr & Gallagher charged in the nationwide college bribery scam said he would plead guilty on Friday, adding that he takes "full and sole responsibility." Gordon Caplan, the law firm also announced Friday, is "no longer a partner."
Caplan was one among many other parents who have been charged with conspiracy to commit mail fraud and honest services mail fraud, as part of a bribery scheme to ensure the children would be enrolled in the schools of their choice. While the maximum penalty for this offense is 20 years behind bars, this quick acceptance of responsibility could mean that it's likely Caplan will face a significantly lesser punishment.
"Mr. Caplan's departure is a result of his involvement in the college admissions matter and his recent statement regarding his intent to plead to a criminal charge," the Willkie Farr & Gallagher said in a statement on Caplan's departure from the firm. "At Willkie, nothing is more important to us than our integrity and we do not tolerate behavior that runs contrary to our core values. We remain focused on our responsibilities to our clients, partners and employees."
The firm has a major international presence, with offices in Paris, London, Frankfurt, Brussels, Milan, and Rome, as well as American offices in New York, Houston, Palo Alto, and Washington, D.C. They are regularly listed among the top 11 most prestigious law firms in the country by Vault.com, coming in at number 51 for 2019.
As Law&Crime noted before, Caplan shelled out $75,000 as part of an agreement that would have his daughter declared as having a learning "discrepancy" in order for her to get extended time to take a college entrance exam. A proctor was to ensure that she got the desired score.
Caplan — it's worth emphasizing again, a star attorney — was recorded speaking with Cooperating Witness-1 (William "Rick" Singer) over the phone and laughing about this "homerun" that wasn't.
CW-1: It's the homerun of homeruns.
CAPLAN: And it works?
CW-1: Every time. (laughing)
CAPLAN: (laughing)
On a later date, when Caplan's wife expressed concern about this over the phone, Caplan allegedly got on the phone and laughed some more.
CAPLAN: Is, let me put it differently, if somebody catches this, what happens?
CW-1: The only one who can catch it is if you guys tell somebody.
CAPLAN: I am not going to tell anybody.
CW-1: Well (laughing)
CAPLAN: (laughing)
In another exchange, Caplan said that he wasn't concerned about the "moral issue here," even as he expressed concerns about what would happen if they got caught.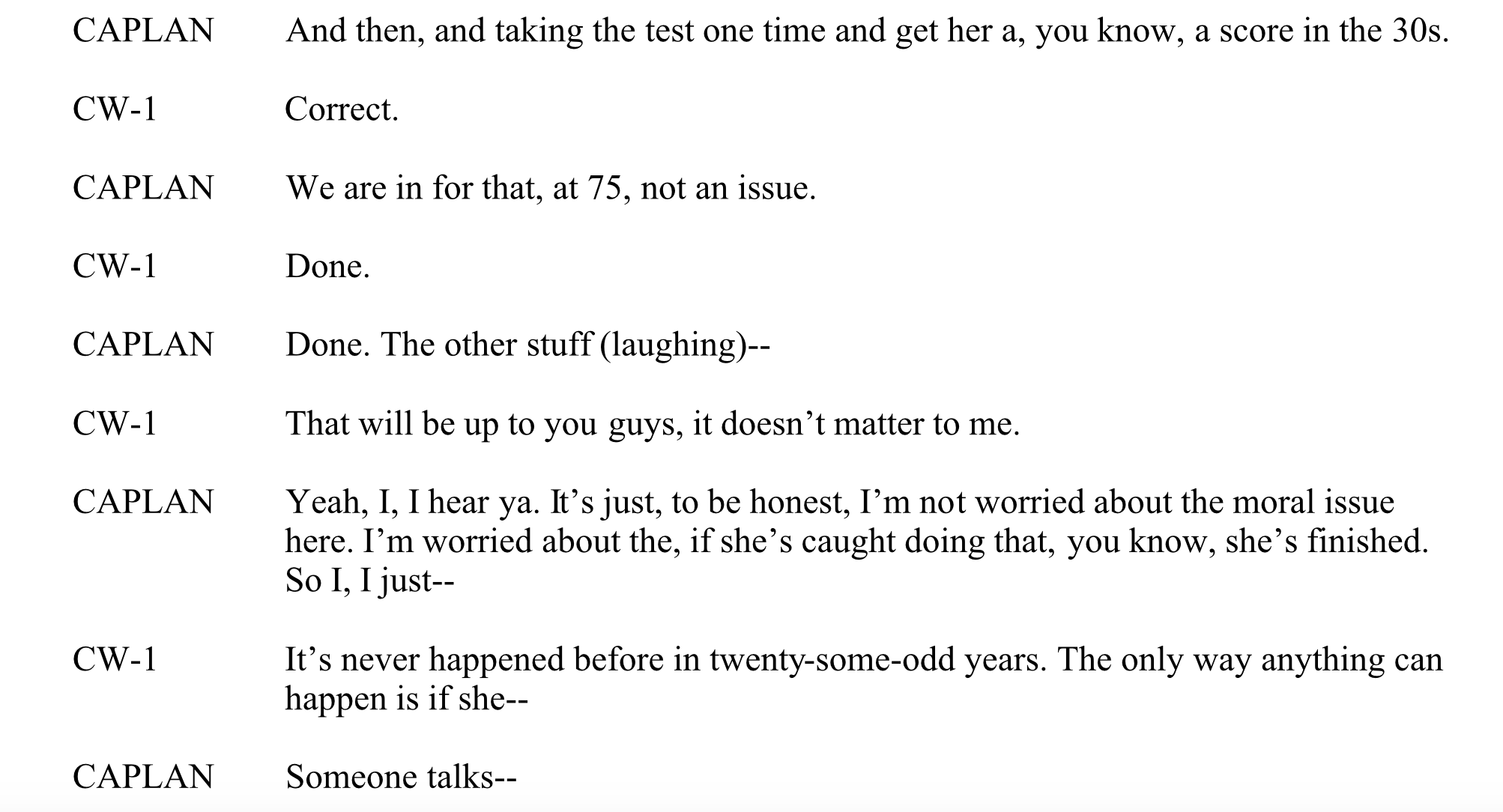 Caplan issued an apology on Friday.
"I apologize not only to my family, friends, colleagues and the legal Bar, but also to students everywhere who have been accepted to college through their own hard work," Caplan he said. "I want to make clear that my daughter, whom I love more than anything in the world, is a high school junior and has not yet applied to college, much less been accepted by any school. She had no knowledge whatsoever about my actions, has been devastated to learn what I did and has been hurt the most by it.
"My immediate goal is to focus on making amends for my actions to try to win back the trust and respect of my daughter, my family, and my community," he added. "The remorse and shame that I feel is more than I can convey."
Caplan appeared in Boston federal court this week, just as actresses Felicity Huffman, Lori Loughlin and others did. Unlike them, however, Caplan has moved quickly towards a guilty plea.
Ronn Blitzer contributed to this report.
[Image via via Bloomberg TV screengrab]
Have a tip we should know? [email protected]