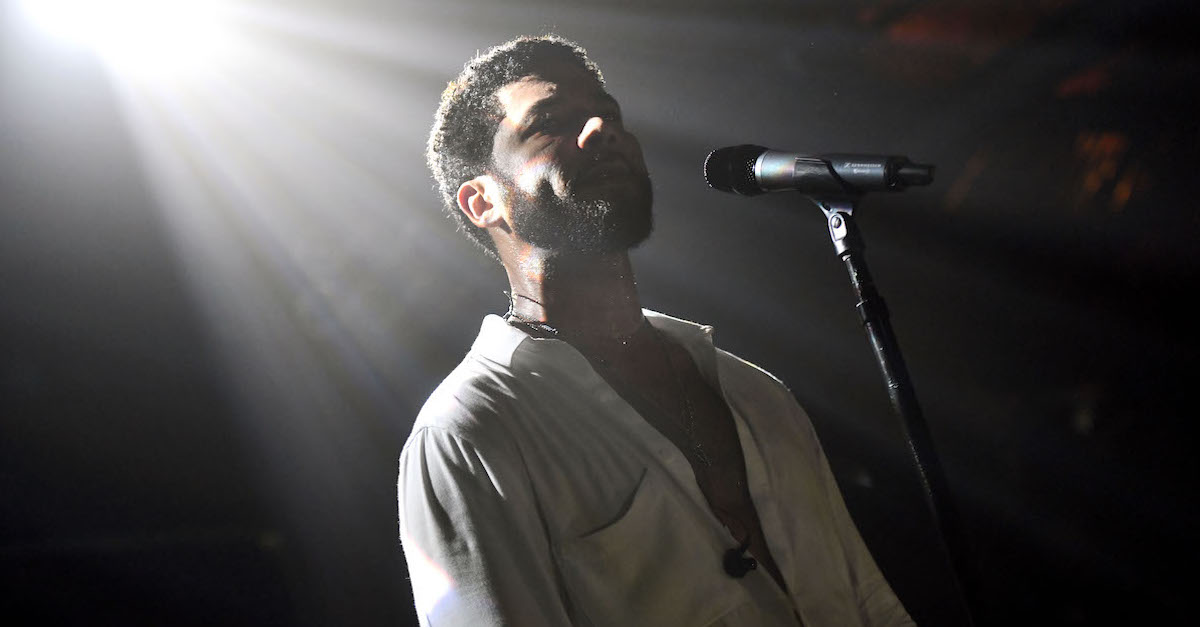 Jussie Smollett is now a free man. On Tuesday, prosecutors in Chicago came to an agreement with the actor and agreed to drop all of the 16 disorderly conduct charges pending against him.
Smollett's attorneys issued a statement proclaiming the embattled Empire star's innocence, which also chided the media and law enforcement leakers for "an attempt to prove a case in the court of public opinion."
"That is wrong," the statement read. "It is a reminder that a victim, in this case Jussie, deserves dignity and respect. Dismissal of charges against the victim in this case were the only just result."
Cook County State's Attorney Kim Foxx later issued a statement of her own which didn't touch upon Smollett's alleged guilt or innocence.
"After reviewing all of the facts and circumstances of the case, including Mr. Smollet's volunteer service in the community and agreement to forfeit his bond to the City of Chicago, we believe this outcome is a just disposition and appropriate resolution to this case," Foxx said.
Later, Smollett's attorneys said there was no deferred prosecution agreement reached between Cook County and their client. This potential arrangement had previously been reported by the Chicago Sun Times (in a story that was edited post-publication to erase their initial incorrect reporting) and–even after the charges were dropped–some legal observers on Twitter suggested a form of deferred prosecution or deferred adjudication was probably what happened under seal anyway due to the forfeiture of Smollett's $10,000 bond.
But that's actually not the case. Instead, per Smollett's attorneys, the state made a motion to nolle prosequi–a seldom used Latin term meaning the state "will no longer prosecute." Such a disposition amounts to a dismissal of charges and is decidedly a far cry from a deferred prosecution agreement which is a form of pre-trial diversion that could eventually result in a criminal case moving forward. Smollett will serve community service "voluntarily" and forfeit $10,000 bond. Prosectors said they "did not exonerate him."
Smollett maintained that he had consistently told the truth–disputing a flurry of anti-Smollett leaks and an eventual full court press tour from Chicago Police Department Superintendent Eddie Johnson claiming that Smollett had paid Abimbola Osundairo and Olabinjo Osundairo to attack him on January 29.
"I would not bring our lives and this movement through a fire like this," Smollett said on Tuesday.
In turn, First Assistant State's Attorney Joseph Magats said Chicago prosecutors "stand by the Chicago Police Department's investigation and our decision to approve charges in this case."
The discrepancy between the two accounts is fairly glaring and the full story may take quite awhile to see the light of day because Leighton Criminal Court Judge Steven Watkins put the case's records under seal.
Since Smollett is no longer charged with a crime, and since the Chicago Police Department–with a knack for having convictions tossed because high-profile officers have been found to be corrupt; as well as being infamous for a decades-long program of illegal torture–isn't necessarily the most trustworthy source of information about alleged criminal defendants, it follows that the actor may have been telling the truth as he saw it all along.
And there's a fair amount of public evidence and reporting that backs his story up.
On February 25, ABC News obtained a copy of a $3,500 check written by Smollett to Abimbola Osundairo. The memo on the check reads "5 week Nutrition/Workout program (Don't Go)."
According to anonymous sources "close to Smollett," the parenthetical is a reference to a music video titled "Don't Go" in which Smollett was scheduled to appear without a shirt on. A "calendar entry" obtained by the outlet confirms that the actor was slated to shoot his scene in the video on February 23. Smollett had apparently gained an unwanted 20 pounds and was aiming to lose the excess weight before the video shoot.
Online rumor mill TMZ also obtained the photocopy of that check–along with a series of text messages between Smollett and Osundairo.
The text messages appear to corroborate the notion that Smollett obtained the Osundairo brothers' services for training and weight loss.
In the messages, Smollett refers to Abimbola Osundairo as "Bon" and the following exchange occurs just a few hours before Osundairo sends Smollett a proposed grocery list for the duration of his training program on January 20–nine days before the controversial attack occurred.
Bon: How many times a day do you eat?
Smollett: Like twice
Bon: Anything you can't eat? Allergies?
Smollett: Not that i know of but i did an allergy test with my throat Dr and will have results in a week. I don't eat pork or beef tho.
Bon: Ok. So you're alright for now with dairy?
Smollett: Oh sorry. Yeah no dairy. Horrible for my vocal
Bon: Alright.
On January 22, Osundairo messaged Smollett to ask, "When is your music video shoot?" but the actor doesn't appear to reply via text.
On January 25, Osundairo sends Smollett a Google Docs link and a brief exchange occurs:
Bon: This is the meal plan and breakdown of micronutrients. Also includes projected fat loss.
Smollett: Cool i can't pull up on phone so gotta check on my computer. When do you leave town?
Bon: I leave Tuesday night.
The final public series of texts between Smollett and Osundairo occurs on January 28:
Bon: I know you're traveling today, make sure you get at least 45 mins of cardio
Smollett: Gotcha. Did it this morning.
Bon: Easy. Good work.
TMZ also reported the Osundairo brothers never actually told the grand jury they were paid to attack Smollett:
Our sources say Ola and Abel told the grand jury they were paid for the 5-week program and not for the "attack." One source connected with the brothers did say Ola and Abel felt the amount was "a little high" but no one ever specifically said anything about any of the money being part of a scheme.
Johnson disputed TMZ's claims without providing additional public evidence–simply claiming there was "a lot more evidence that hasn't been presented yet." And then, as it stands, that claimed evidence never was presented to the public at all. So, maybe TMZ got this one right.
In this case it's quite obvious that somebody dropped the ball.
[image via Scott Dudelson/Getty Images for ABA]
Have a tip we should know? [email protected]