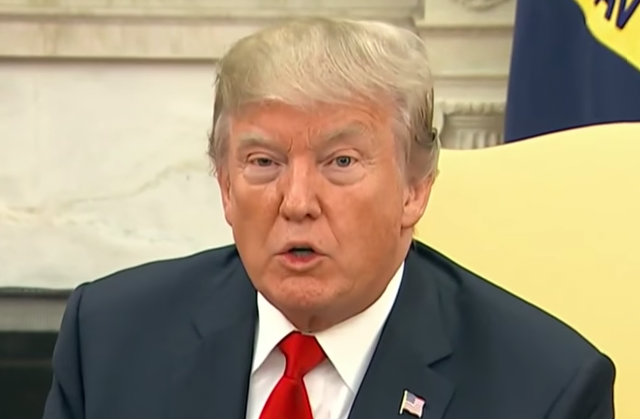 Excerpts of Michael Wolff's new book Fire and Fury: Inside the Trump White House have been making the rounds. Here's one detail which has possible legal implications for the president: A Trump team legal spokesman quit because he thought Donald Trump's meeting about his son's June 2016 get-together with a Russian attorney was likely obstruction of justice. Here's how Axios put it when they got their hands on the book.
"Mark Corallo [former spokesman for Trump's personal legal team] … privately confiding [to Wolff] that he believed the meeting on Air Force One represented a likely obstruction of justice — quit."
Trump had a meeting with high-ranking aides at a July 8 meeting on Air Force One, where he reportedly had a hand in drafting Trump Jr's controversial statement on the Russia meeting. According to the new book,  Ivanka Trump was there, said her team. Jared Kushner's people claimed he "might have been there," but he wasn't taking notes. Dina Powell, Gary Cohn, Stephen Miller, and H.R. McMaster were in a conference room watching the film Fargo.
Donald Trump Jr. and Jared Kushner met with a Russian attorney at Trump Tower in June 2016 after being promised dirt on Hillary Clinton (Jr. publicly released emails showing as much). They denied doing anything anything illegal, but the full admission was only made after several misleading, ever-changing statements to The New York Times, which broke the story last July. One such statement, released in a July 8 story, went like this. Trump reportedly had a hand in drafting it:
"It was a short introductory meeting. I asked Jared and Paul to stop by. We primarily discussed a program about the adoption of Russian children that was active and popular with American families years ago and was since ended by the Russian government, but it was not a campaign issue at the time and there was no follow up."
Jr. released the emails on July 11. The Washington Post followed up that month, reporting that the president dictated the message:
"This was . . . unnecessary," said one of the president's advisers, who like most other people interviewed for this article spoke on the condition of anonymity to discuss sensitive internal deliberations. "Now someone can claim he's the one who attempted to mislead. Somebody can argue the president is saying he doesn't want you to say the whole truth."
Mark Corallo resigned from the Trump legal team in July. He confirmed his departure in a July 21 letter to the BBC, but didn't elaborate further. Serious legal questions remain like did Corallo warn Trump not to get involved? What did he tell Trump about what to say? Has he been interviewed by Mueller's team yet?
Obstruction of justice allegations have trailed the president for a while. Memorably, critics said his alleged request for FBI Director James Comey was construed by some to constitute obstruction of justice.
The Trump team are no fans of this new book, calling it inaccurate. The president had an attorney file a cease-and-desist to stop publication. A defamation lawsuit was also threatened against former White House Chief Strategist Steve Bannon for comments he made in the book.
A special counsel is investigating Moscow's interference in the 2016 presidential election. This involves whether the Trump campaign helped out. A report declassified in January 2017 showed that U.S. intelligence officials believe that the Kremlin directed cyberattacks to help Trump win. The president called the collusion allegations a "witch hunt" by Democrats.
[Screengrab via NBC]
Have a tip we should know? [email protected]