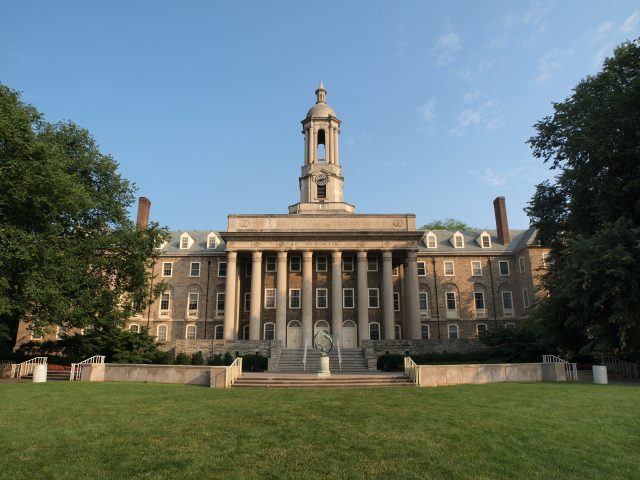 Late on Friday, former Penn State President Graham Spanier was convicted of a misdemeanor while being acquitted of two felonies in a trial brought about by charges related to the "Jerry Sandusky Scandal." The news media, in keeping with their scandalously awful coverage which has guided this case since in broke in late 2011, has universally mischaracterized this result as a final substantiation of the nonsensical theory that Penn State actively covered up Sandusky's crimes.
In a remotely rational world, this conclusion is ludicrous. The commonwealth of Pennsylvania, after six years of effort and with the media and public blowing a hurricane wind at their back, now only have three measly misdemeanors (out of 24 original charges against three men) to show for this "cover up" that has incredibly little evidence and absolutely no logic behind it.
I have already written that I know that Spanier and Penn State are completely innocent and explained how these verdicts really happened. Now I am going to going to further prove the case by releasing the first-ever interview done with a former special agent of the Federal Investigative Services who, on behalf of the Federal Government, did a comprehensive analysis of the situation and came to exactly the same conclusion.
His name is John Snedden. In late 2011, just after the scandal broke he was given the job of investigating whether Spanier should be able to retain in very high level top-secret national security clearance. After interviewing nearly every key person at Penn State (including Spanier himself, under oath, for over eight hours) he complied a remarkable 110-page report which I released exclusively here a couple of weeks ago.
Spanier High Level Clearance FBI Report – Redacted by LawNewz on Scribd
At that time, I had planned to interview Snedden for my weekly podcast. However, at the very last moment, Spanier's lawyers asked him to hold off because they expected him to be their star witness at last week's trial. Unfortunately, while Snedden drove from New York to testify last Thursday morning as planned, the defense team called a highly-questionable audible and elected, again at the last second, to call no witnesses at all and simply rest their case.
Snedden, who is extremely eager to tell his version of what really happened here, finally spoke to me on the record yesterday in this extraordinary interview:
Here are some of the highlights of what Snedden says:
He is very confident that there was no cover-up, no conspiracy, and nothing to cover up in the first place.

He is sure that Graham Spanier is innocent and believes that if the jury had heard from him, or even just read his report, that he would have been fully exonerated by the trial verdicts.

He has harsh words for former FBI Director Louis Freeh whose "Freeh Report" famously condemned Penn State and believes Freeh purposely ignored the FIS report because it contradicted the conclusion he had been paid to come to.

He does not believe that Mike McQueary ever witnessed any sort of a sexual act in a Penn State shower and is even more certain that he never told anyone at Penn State that he did.

He views Joe Paterno as a very minor figure in all of this who was unfairly swept up in the media insanity surrounding the case.

He saw no evidence (when there should have been at least some signs of it) indicating Sandusky himself was guilty of the original crimes which began this case, and he firmly believes that there needs to be a reexamination of this entire matter.
Any other high-profile case, Snedden's interview together with his report would be significant news which would at least force the news media to finally open their minds to the very high likelihood that they have badly blown this whole case from the very beginning. However, having lived this nightmare almost every day for five years, I am quite confident that the truth in this case will continue to suffer from the kryptonite virus given to it by an inept news media which is universally invested in a fairytale, all at the expense of the suffering of many innocent people.
John Ziegler hosts a weekly podcast focusing on news media issues and is documentary filmmaker. You can follow him on Twitter at @ZigManFreud or email him at [email protected]
Have a tip we should know? [email protected]