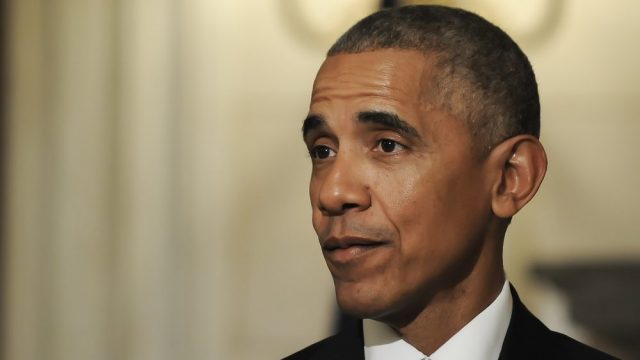 With the revelation that President Donald Trump may have disclosed highly classified information regarding intelligence "sources and methods" during a meeting with Russian officials, Americans are probably wondering how such a thing could have happened.
One thing is clear, it's not illegal for a President to discuss such information, because doing so effectively declassifies it. So while it definitely raises questions of judgment regarding how or why such a disclosure could happen, President Trump almost certainly isn't the first POTUS to make that decision (or mistake).
As it turns out, President Barack Obama appears to have done it, and perhaps George W. Bush before him.
When journalist Bob Woodward was doing research for his book, Obama's Wars, he gained incredible access to officials and information. In the book, Woodward provides details regarding Obama's first intelligence briefing from the Director of National Intelligence after the 2008 election. This raised questions after the book came out, since DNI Mike McConnell was very selective when it came to who was allowed to be at that briefing. Obama aides like John Podesta weren't allowed in. The reason? The briefing discussed "sources and methods." Nevertheless, Woodward somehow knew enough to discuss specifics from that meeting.
Retired CIA attorney John Rizzo gave The Lawfare Project a surprising explanation for how Woodward gained access to classified information.
Simple.  When a President himself is a key source and directs or at least signals to his Administration to cooperate with the author, that for all intents and purposes means the book becomes one big authorized disclosure.  That's what Obama did for Woodward, and that's what Bush did for Woodward in his three books during that Administration[.]
So, Trump declassifying information that was previously highly classified may be surprising—even troubling—but if Rizzo's explanation is accurate, it's hardly the first time.
No question, the Obama disclosure would have come at a time when he likely believed it was acceptable for the American people to learn about it. While President Trump revealed the information to a foreign government, at a time when the White House still won't disclose it to the American people, and even to key aides and allies. In fact, CNN's Jake Tapper announced Tuesday on "The Lead" that CNN was previously aware of the information, and obeyed the government's request not to disclose it. Tapper said that U.S. officials feared that if some of the information got out, people could die. No doubt, all classified information isn't created equal, but from a purely legal prism, a President de-classifying information isn't a violation of law, or even anything new.
[Image via Ververidis Vasilis/Shutterstock]
Have a tip we should know? [email protected]