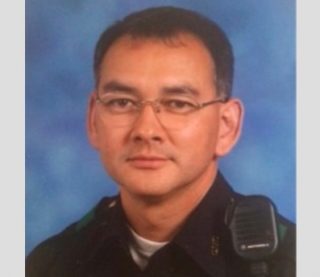 Southern Methodist University is facing a great deal of backlash on Friday morning after the daughter of slain Dallas Police Sgt. Michael Smith was apparently disinvited from participating in the ceremonial "first serve" at an upcoming SMU women's volleyball match.
A 28-year veteran of the Dallas Police Department, Sgt. Smith was one of five police officers killed in an ambush attack in downtown Dallas in July 2016.  According to a Facebook post by Sgt. Smith's widow, Heidi Bradley Smith, SMU had planned to honor her husband at a volleyball game on Saturday.  Part of the plan to honor Sgt. Smith included having his daughter participate in the ceremonial "first serve" before the start of the match.
Bradley-Smith said she was contacted by the SMU administration on Thursday and informed that the school was backing out of its plan to honor her husband, presumably in light of the election of Donald Trump.  
"The volleyball program was not correctly informed that this would be taking place at the game, and feels that in light of recent events and diversity within the SMU community, that the demonstration could be deemed insensitive," the message from SMU administrators stated, according to Bradley-Smith.
Rather than honoring the fallen police officer in public, the volleyball team suggested Bradley-Smith and her daughter "stay after the game for an autograph session with the players."
An SMU spokesperson told LawNewz.com the school was aware of the Facebook post and was currently attempting to clarify what exactly happened.  We will update this story when we receive any additional information.
UPDATE:
An SMU spokesperson issued the following message to LawNewz.com:
The SMU Volleyball program extends its sincere apologies to the Smith family and is reaching out this morning to speak directly to Mrs. Smith to apologize and reinforce that the invitation stands. This incident does not reflect SMU values. Due to a change in staffing, there was a breakdown in communication that led to this unfortunate situation. This communication to Mrs. Smith would never have occurred if proper approval and communications procedures had been followed. The invitation was intended to help a family heal, and we very much look forward to Victoria's first serve in the volleyball match Saturday.

SMU values the service and sacrifices of all first-responders and honored Victoria's father, Sgt. Michael Smith, as well as Dallas Police officers Lorne Ahrens, Michael Krol, and Patrick Zamarripa, DART Officer Brent Thompson, SMU Officer Mark McCullers and University Park Fire Department Chief Bob Poynter at the annual First-Responders football game earlier this fall.
[image Dallas Police Department]
Have a tip we should know? [email protected]