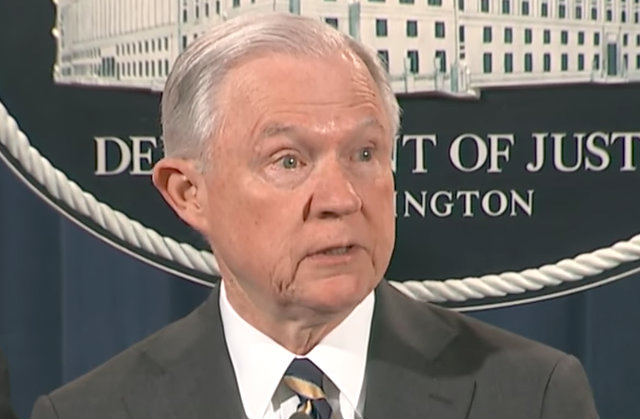 On Tuesday, Attorney General Jeff Sessions delivered a closed-door speech, in which he promised The Department of Justice will soon finish guidelines on President Donald Trump's "Religious Liberty" executive order.
"The president has also directed me to issue guidance on how to apply federal religious liberty protections," he said in a transcript obtained by The Federalist. "The department is finalizing this guidance, and I will soon issue it. The guidance will also help agencies follow the Religious Freedom Restoration Act. Congress enacted RFRA so that, if the federal government imposes a burden on somebody's religious practice, it had better have a compelling reason. That is a demanding standard, and it's the law of the land."
Sessions delivered the speech for the Alliance Defending Freedom–the same legal group that represents Jack Phillips, the Colorado baker who refused to make a wedding cake to a gay couple getting married. Phillips' attorney argues his First Amendment rights were violated when the state's Civil Rights Division ruled he broke an anti-discrimination statute. His case is going to the U.S. Supreme Court.
Trump's EO, issued May 4, tells cabinet members to think about "issuing amended regulations" making it easier for employers to deny contraceptive health coverage to employees if they have some sort of objection. It also directs the IRS use more discretion when applying tax penalties to non-profits, including churches, who get involved in politics. This is meant to weaken the Johnson Amendment, a tax bill that establishes a wall between government and religion.
At first, the American Civil Liberties Union seemed poised to strike, ready to sue. Then they took a second look at the text.
"Today's executive order signing was an elaborate photo-op with no discernible policy outcome," ACLU Executive Director Anthony Romero said May 4 statement. "After careful review of the order's text we have determined that the order does not meaningfully alter the ability of religious institutions or individuals to intervene in the political process. The order portends but does not yet do harm to the provision of reproductive health services."
Sessions' new guidelines would either attract an ACLU lawsuit, or yet another dismissal from Romero. Nonetheless, Sessions' guidelines on the Religious Freedom Restoration Act could be another source of contention.
Remember the Hobby Lobby case? In 2014, the U.S. Supreme Court ruled 5-4 that the RFRA allowed company owners to deny, on the basis of religious belief, health insurance coverage for contraception.
The ACLU rescinded their support for the law in 2015. In a Washington Post article, Deputy Legal Director Louise Melling argued that "it is now often used as a sword to discriminate against women, gay and transgender people and others."
It is worth mentioning that the ACLU represents the couple denied service by Phillips. Also, the ADL criticized the organization for opposing the RFRA.
[Screengrab via NBC]
Have a tip we should know? [email protected]