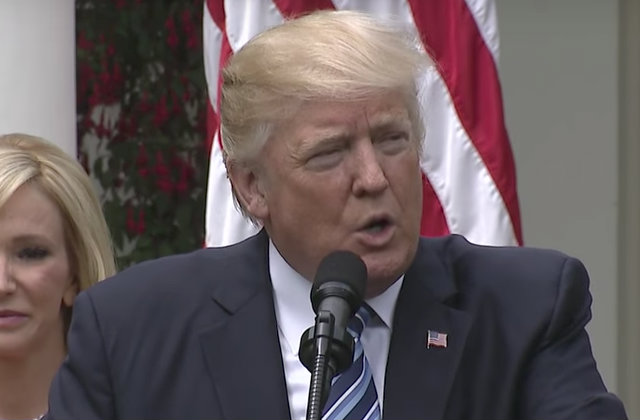 Update – May 4, 6:19 p.m.: The ACLU promised to sue over President Donald Trump's "religious liberty" executive order, but now they're not going to bother. It's no big deal, they say.
Executive Director Anthony Romero argued the EO might signal future trouble, but for now, it's just a photo op meant to satisfy religious conservatives. From the statement published early Thursday evening:
"Today's executive order signing was an elaborate photo-op with no discernible policy outcome. After careful review of the order's text we have determined that the order does not meaningfully alter the ability of religious institutions or individuals to intervene in the political process. The order portends but does not yet do harm to the provision of reproductive health services.

"President Trump's prior assertion that he wished to 'totally destroy' the Johnson Amendment with this order has proven to be a textbook case of 'fake news.'

"The directive to federal agencies to explore religious-based exceptions to healthcare does cue up a potential future battle, but as of now, the status quo has not changed."
Trump's EO, signed Thursday, directs cabinet members to "consider issuing amended regulations" making it easier for employers to deny contractive health coverage to employees if they have some sort of objection. It also directs the IRS use more discretion when applying tax penalties to non-profits who get involved in politics. This includes churches.
The ACLU lawsuit would have presumably targeted at least the reproductive-care aspect of the order.
Our original story on the ACLU's lawsuit threat is below.
***
President Donald Trump wants tax-exempt religious groups involved in politics, and for employers to be allowed to deny health insurance coverage for contraceptives. The American Civil Liberties Union wants to stop him. The ACLU promised on Thursday to sue over his executive order that weakens the Johnson Amendment.
LawNewz.com obtained the statement by Executive Director Anthony Romero:
"The actions taken today are a broadside to our country's long-standing commitment to the separation of church and state. Whether by executive order or through backroom deals, it's clear that the Trump administration and Congressional leadership are using religion as a wedge to further divide the country and permit discrimination. We intend to file suit today.

"America is a deeply religious country because religious freedom and tolerance of divergent religious views thrive. President Trump's efforts to promote religious freedom are thinly-veiled efforts to unleash his conservative religious base into the political arena while also using religion to discriminate. It's a dual dose of pandering to a base and denying reproductive care. We will see Trump in court, again."
Trump's executive order, signed Thursday and titled "Promoting Free Speech and Religious Liberty," doesn't repeal the Johnson Amendment. It can't since that is part of federal law, and he must get Congress' approval to do that. What it does do, however, is instruct the Internal Revenue Service to use more discretion when enforcing it.
The Johnson Amendment keeps non-profit organizations, including churches, from getting involved in politics. Groups can't hand out campaign contributions. Neither can they provide verbal or written statements, whether in support or opposition of a candidate. Those who break the rules risk losing their tax-exempt status. It is a wall between 501(c)(3) organizations and the way Americans shape government.
Trump's EO also directs cabinet members to "consider issuing amended regulations" about contraceptives provided by health insurance. Ostensibly, employers with "conscience-based objections" to preventive care would have an easier time denying coverage. That is what would have sparked the ACLU lawsuit.
Through the campaign and into Thursday's signing ceremony, Trump attacked the Johnson Amendment for restricting free speech and religious liberty.
You can read the full order here.
Update – May 4, 6:04 p.m.: We added more information about the executive order, concerning its directive on contraceptive care.
[Screengrab via The White House]
Have a tip we should know? [email protected]