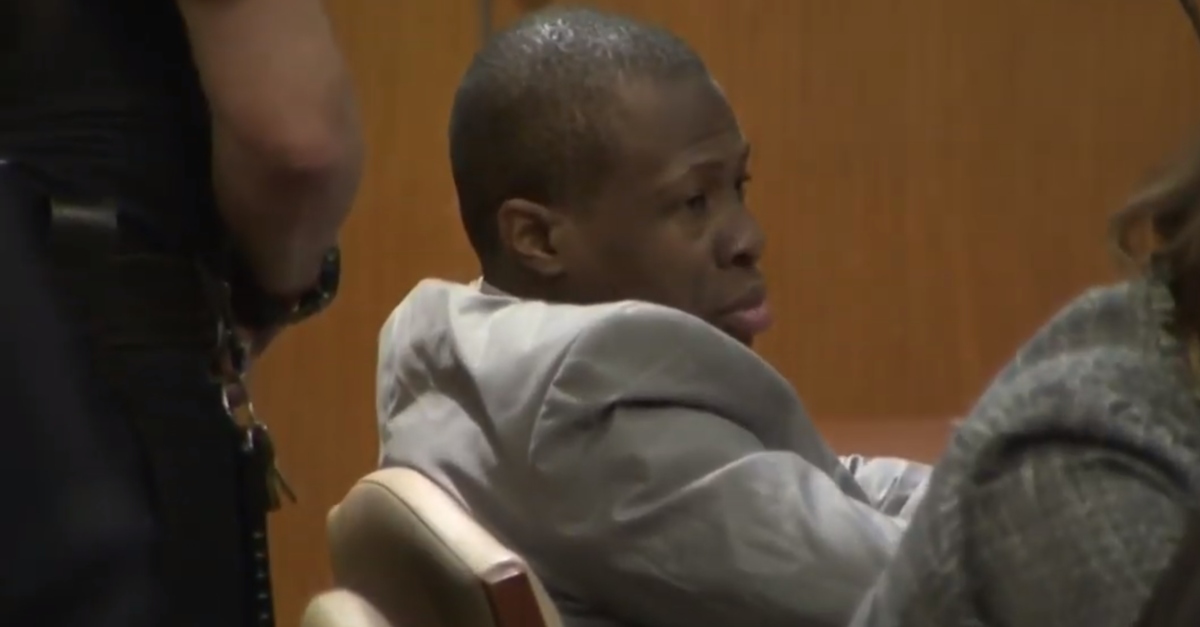 The sentencing of New York man Chanel Lewis for the 2016 murder of Karina Vetrano was postponed Wednesday over alleged juror misconduct.
BREAKING: Lewis' family leaves courthouse chanting "Justice for Chanel"… sentencing postponed amid allegations of "juror mosconduct". Hearing scheduled for Monday, possible sentencing now Tuesday @ChasingNews @BillSpadea @My9NJ @fox5ny @FOX29philly pic.twitter.com/CeXd6y2laD

— Nate Rodgers (@NateWants2Know) April 17, 2019
Prosecutors said he killed her while she was out jogging in Spring Creek Park in the Howard Beach neighborhood of Queens. By all accounts, they were strangers to one another.
Queens County Assistant District Attorney Brad Leventhal highlighted the defendant's confession to cops, according to The New York Post. He said they found his DNA profile on her neck, under her fingernails, and on her phone.
Vetrano was killed on Aug. 2, 2016, but the case went unsolved for months. Cops finally arrested Lewis the following February and said he admitted to the murder. His defense quickly began to argue this was admission was coerced, having happened amid an interview that lasted for hours.
Defense lawyer Robert Moeller said in closings that investigators didn't collect DNA elimination evidence. He argued cops became fixed on Lewis as a suspect, and didn't look at other theories of the case.
He also said that the defendant incorrectly told cops the color of Vetrano's top. Lewis said yellow, but it was actually black, said the lawyer. Levanthal pointed out her shoes were yellow, and argued that Lewis wasn't focusing on her top, "but what was underneath it."
Jurors sided with the prosecution and found Lewis guilty on April 1, at the conclusion of his second trial. Foreman Brian Morrissey told CBS New York the confession "wasn't coerced," and DNA evidence was "overwhelming."
A juror told The New York Post in an April 2 report that he felt pressured to reach a guilty verdict, but didn't elaborate how. He voiced some skepticism over the allegation.
"I kept thinking, 'How tall is Karina? How tall is Chanel?' She looked pretty buff to me," said the man. He was not named, and was only described as a white man in his 30s. The juror said that Lewis seemed like a "good kid."
Nonetheless, he said he felt right about the final verdict.
"I feel like justice was served," he said. "For both sides of the family it's an awful, awful situation."
The defendant's first trial ended in a mistral because of a hung jury.
Lewis' legal team said before Wednesday's delay that they plan on appealing. The judge denied a motion to declare mistrial, regarding an anonymous letter that claimed prosecutors withheld evidence. The message, first reported by The New York Daily News, said that police first thought that two "jacked up white guys from Howard Beach" killed Vetrano. The defense argued that cops only collected their client's DNA as part of a "race-biased dragnet."
[Screengrab via CBS 2]
Have a tip we should know? [email protected]