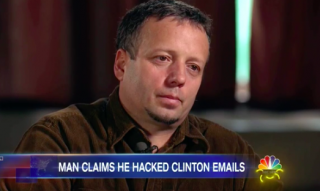 At least two different sets of sealed documents were filed in the case against Romanian hacker Marcel Lehel Lazar, who goes by the moniker Guccifer.  Lazar was extradited in March and is facing hacking charges. He told several media outlets earlier this month that he 'easily' hacked into former Secretary of State Hillary Clinton's private email server. He was also the one who first exposed Clinton's use of a private email system.
Lazar is scheduled to appear in a Virginia courtroom Wednesday morning for a change of plea hearing. He is apparently finalizing a deal with the FBI and the U.S. Attorney's office. His extradition to the U.S. came just as the FBI was reportedly in the throws of an investigation into Clinton's private email server.   An examination of the federal court docket for his case by LawNewz.com revealed two new entries that were both filed under seal.  The fact that the documents were kept secret could be an indication that they contain information related to his plea deal that the feds or a judge wanted to keep under wraps.
"There may be something in his plea agreement that he agreed to testify against another individual and the government does not want that to be public so in this case the plea agreement (or another document related to it) could be sealed," Page Pate, a criminal defense attorney, told LawNewz.com.
However, to be clear, since the paperwork was filed under seal, we don't know for sure what it contains. The sealed docs could also include paperwork related to Lazar's transfer to another detention facility to in preparation for court Wednesday.
Another reason for sealing documents, according to Pate, could be that the paperwork relates to a search warrant, cooperation agreement or the testimony of a witness.  If the information is at all related to an ongoing investigation, the DOJ would want to keep that information confidential, at least for now.  Interestingly, the two documents are the only entries that have been sealed in Lazar's entire criminal case.
Fox News had been in contact with Lazar but reports "he then suspended media contact earlier this month." Lazar is facing charges including wire fraud, cyberstalking, identify theft, unauthorized access to computers and obstruction of justice.
Have a tip we should know? [email protected]
Rachel Stockman - President / On Air Host