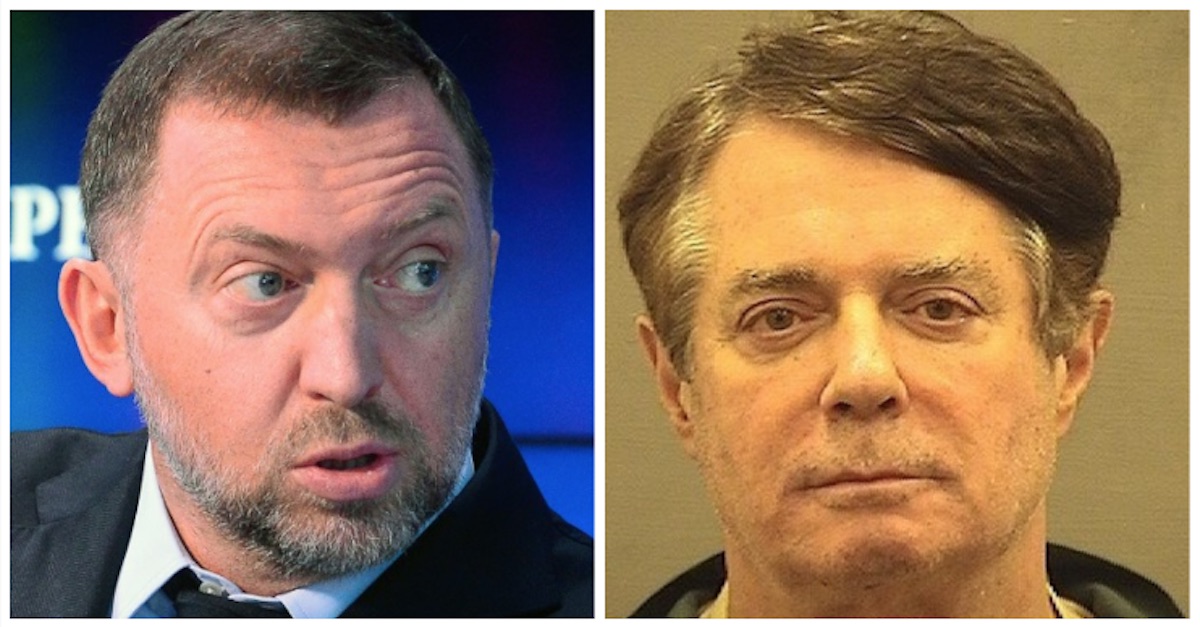 Oleg Deripaska, a Russian billionaire close to Vladimir Putin who once loaned convicted felon Paul Manafort $10 million, is suing the U.S. for declaratory and injunctive relief in response to "devastating" sanctions.
Deripaska is suing Treasury Secretary Steven Mnuchin in his official capacity, the Treasury Department, the Office of Foreign Assets Control (OFAC) and OFAC Director Andrea Gacki in her official capacity.
Deripaska claims that the U.S. used the "devastating power of U.S. economic sanctions without adhering to the bounds of its legal authority and in a manner that is inconsistent with the U.S. Constitution." He claims that he is the "latest victim" of America's "political infighting," and added in a line to call Russian interference in the 2016 election "purported interference." Deripaska accused of the U.S. of acting with "lawlessness" by relying on "false rumor and innuendo" and "decades old defamatory attacks" made by business competitors to sanction him.
He further claimed that he has been added to an "arbitrarily contrived list of 'oligarchs.'"
Deripaska characterized the effect of sanctions on him as crippling:
The effect of these unlawful actions has been the wholesale devastation of Deripaska's wealth, reputation, and economic livelihood. As a direct result of Defendants' actions, Deripaska has been ousted from the international business community, as banks and businesses refuse to transact or deal with him or his businesses out of fear of their own potential exposure to U.S. sanctions for doing so. Further, Deripaska—whose net worth has fallen more than $7.5 billion, or approximately 81%, since the time of the designations—has been irrevocably forced out of his controlling interests in his largest businesses some of which—including En+—he founded and developed over 30 years. He has also witnessed his remaining businesses—which together employ more than 200,000 people and 1.5 million contractors—edge to the brink of collapse, as banks refuse to extend them loans, and counterparties terminate their relationships with them. Indeed, even the Russian Government—which the designations of Deripaska were intended to pressure— has threatened to expropriate and nationalize Deripaska's businesses for the benefit of the Russian state if he fails to terminate his interest in his designated companies. These harms continue to compound daily and will continue to do so as long as Defendants maintain sanctions on Deripaska.
That's not all.
Deripaska suggested that he has been illicitly targeted by the U.S. because it was "publicly popular to do so."
"The Court should find that Defendants have not acted in accordance with the law and thus should compel Defendants to rescind Deripaska's designations and remove him from the SDN List and from the U.S. Department of the Treasury's 'Oligarch' Report," the lawsuit said.
Back in December 2018, Law&Crime reported on the news that the Trump administration was "ready to remove sanctions" from Deripaska's company United Co. Rusal, the second-largest aluminum company in the world, but only after Derpiska "reached an agreement to significantly reduce his ownership stake."
Mnuchin said at the time that while financial restrictions would be removed, Deripaska would also be losing "significant" control of Rusal, En+ Group Plc, and JSC EuroSibEnergo.
"These companies have committed to significantly diminish Deripaska's ownership and sever his control," Mnuchin said. "The companies will be subject to ongoing compliance and will face severe consequences if they fail to comply."
As the report notes, this is intended to go into effect in 30 days unless Congress blocks the move.
Mnuchin said that the sanctions that were slapped on Deripaska's companies were intended to hurt him. Now that the damage has been done — Bloomberg reported that the "value of the aluminum producer has declined by more than half from $9.2 billion more than seven months ago" — Deripaska agreed to cut his ownership share in each company below 50 percent.
Oleg Deripaska Sues U.S. Gov. by Law&Crime on Scribd
[Images via Olga Maltseva/AFP/Getty Images, Alexandria Detention Center]
Have a tip we should know? [email protected]