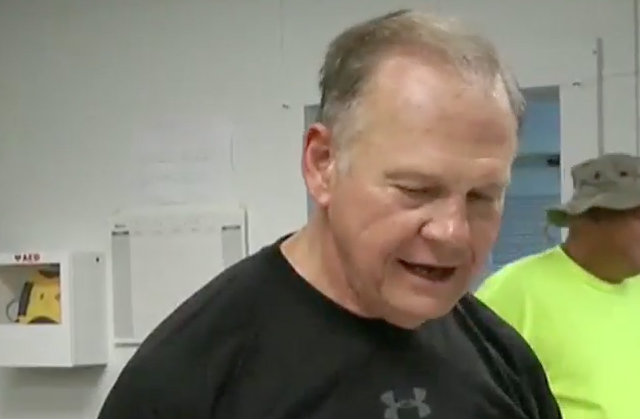 It has been a day since four women publicly claimed GOP Senate candidate Roy Moore preyed on them as teenagers, but despite some public calls to step down, this former judge has his share of supporters. One person: his brother, who compared Moore's situation to the suffering of Jesus Christ.
CNN's @MartinSavidge spoke on the phone to Roy Moore's brother, Jerry Moore, who defended his brother – says that his brother is being persecuted, in his own words, like Jesus Christ was. pic.twitter.com/2ge9vgDYXN

— David Wright (@DavidWright_CNN) November 10, 2017
What is it about using Jesus to defend Moore from this allegation? On Thursday, Alabama State auditor Jim Zeigler said the allegations were no big deal because, "Take the Bible … Mary was a teenager and Joseph was an adult carpenter. They became parents of Jesus."
Four women, now adults, told the WaPo that Moore pursued them romantically when he was grown man, and they were teenagers. At the time of the alleged incidents, three ranged from ages 16 to 18, and described behavior that didn't go beyond kissing, while the fourth, who was 14 at the time, said Moore brought her to his home, stripped him and herself down to underwear, groped her, and guided her hand to his underwear before she yanked herself away. Alabama's age of consent was and is 16.
The 70-year-old Moore voraciously denied the allegations, calling it a smear job by Democrats and WaPo (the fourth woman, Leigh Corfman, who is now 53, said she voted for Republicans in the last three presidential elections).
If Moore wins the Alabama special election scheduled for Dec. 12, he'd serve alongside GOP colleagues who have mostly hedged their words about whether he should even run anymore. Senators like Mitch McConnell, Lisa Murkowski, and Ted Cruz called for him to step aside if the allegations are true. John McCain said the allegations are bad enough, and Moore should step down anyway. Ohio Gov. John Kasich and possible Utah U.S. Senate candidate Mitt Romney were equally clear in their denunciation.
Moore continues to raise funds for his candidacy, citing the WaPo report. He would remain on the ballot if the GOP withdrew their nomination since it is so close to election day.
[Screengrab via Fox News]
Have a tip we should know? [email protected]