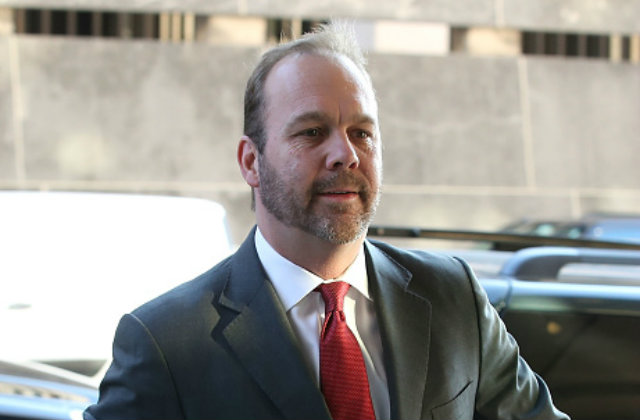 Attorney Thomas Green told Law&Crime on Thursday that he's still Richard Gates's lawyer, contradicting a new report from The Daily Beast.
"I am his lawyer," Green wrote via email. "That story is false."
The outlet reported Thursday afternoon that Gates fired Green. People, described as "sources familiar with the matter," said Gates would not plead guilty.
From the article:
It is true that Green is named on a court filing that went up late on Thursday, and he will appear in court tomorrow. It may take a day or two for his formal relationship with Gates to legally unravel, multiple sources tell The Daily Beast.
This story, in turn, contradicted a Los Angeles Times report from Sunday. That report said he was going to plead guilty, and was willing to testify against co-defendant Paul Manafort. A CNN report also said he was close to a plea deal.
Green did not address Law&Crime's follow up questions about whether Gates would plead guilty, and about the new indictment in the case. (For months, there has been a gag order on both sides.)
The Beast reported that Gates replaced Green with attorney Barry Pollack, of Miller Chevalier. The outlet said that neither lawyer responded to a request for comment, but they later updated the story with Green's reply to BuzzFeed.
UPDATE: Asked to confirm that he is representing Rick Gates — and about the Daily Beast reporting that he was fired, Tom Green tells me, "It is ludicrous and I am representing him."

— Chris Geidner (@chrisgeidner) February 22, 2018
Pollack did not immediately respond to a Law&Crime request for comment.
Beast reporter Betsy Woodruff stood by her story Thursday evening.
My reporting is correct. It may take a day or two for Green's formal relationship with Gates to legally unravel. But he's out. https://t.co/QJuh9qnCAd

— Betsy Woodruff (@woodruffbets) February 22, 2018
Federal court records list Green as Gates' attorney. On Thursday, Judge Amy Berman Jackson approved the departure of Gates' former lawyers–Shanlon Wu, Walter Mack, and Annemarie McAvoy–from the case. They left because of irreconcilable differences, according to court documents.
Gates and Manafort are being charged in connection to their work with the Ukrainian government. Counts include money laundering and bank fraud.
Update – Feb. 23, 2:39 p.m.: The Daily Beast updated their story Friday afternoon. They reported that Gates would in fact plead guilty, and included this note.
Correction, 2/23/18, 12:26 p.m.: The original version of this story stated that Gates would not cooperate with Mueller and would drop his lawyer. The Daily Beast regrets those errors.
Woodruff acknowledged the rewrite on Twitter.
Even good sources can sometimes lead you in the wrong direction.
Here's the corrected story:https://t.co/WTyWPnKqn3

— Betsy Woodruff (@woodruffbets) February 23, 2018
[Richard Gates via Mark Wilson and Getty Images]
Have a tip we should know? [email protected]