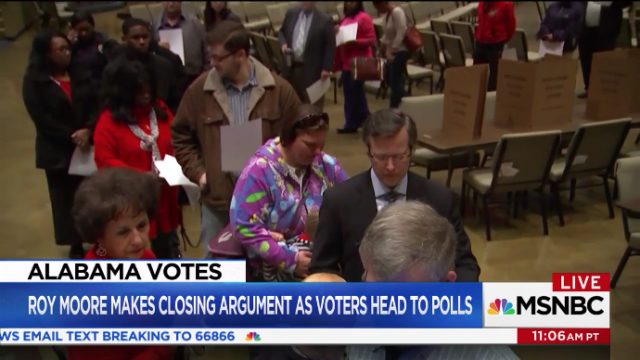 UPDATED: see end of story for the latest additions to this breaking story.
On the day of a special election to fill the Senate seat vacated by Jeff Sessions, voters are reporting various forms of procedural roadblocks that many suggest rise to the level of voter suppression.
In a tweet sent early this morning, software engineer and web designer Brittany Melton noted that she's voted at the same polling location in Alabama for her entire life.
On occasions when she lived elsewhere, she says, Melton either traveled back home to vote or used an absentee ballot–the former she used twice. For today's election, she says, Melton chose the homecoming option.
Now, maybe information about Melton's historical voting habits appears a bit banal in light of the unchecked drama that's been unfolding since the beginning of the campaign to fill Sessions' seat. It's not.
Today, while attempting to vote in the election between Democrat Doug Jones and Republican Roy Moore, Melton's status was reportedly marked "inactive."
For someone who has voted consistently–in the same place; for their entire life–an inactive status marker is charitably described as curious. Melton wasn't the only voter suddenly thrust into "inactive" status in Alabama for today's election, however, and she believes there's a reason for that. She wrote:
[B]ecause this election is high stakes, suddenly I and tons of others in my small town were marked as inactive. Folks who have lived here longer than I've been alive….inactive. So they make the inactive people go to a special table to fill out a form and guess what fam? If you don't remember your birth county you can't fill out the form. Sucks for you if you were born out of state like me.
Melton's story about casting her ballot ends on a positive note: she was prepared for such "shenanigans" (her term) and brought her original birth certificate. In all, she voted in about 15 minutes at a busy polling site–a commendable timeframe in light of all the hoops she was forced to go through.
But Melton peered well past her own nose and pointed out that not everyone else would have such luck or foresight as her. She noted:
Y'all they literally tried to play me like I was a punk. Imagine all the NORMAL people who don't travel with additional ID. For those who have asked, you are not allowed to have a phone out once you walk inside. That's been a rule for a few years now. While some more privileged members of society may take the risk, I'm not finna have [my] black behind escorted out.
Melton's initial tweet has since gone viral and her story appears to have prompted others to come forward with similar complaints .
Additionally, at least one voting rights organization has seized on Melton's Twitter thread to highlight Alabama's recent disruption of voter registration rolls. VoteRiders, a non-partisan, non-profit 501(c)(3) group tweeted out Melton's story with the caption:
ALERT in Alabama: If your name appears on the inactive voter list, you MUST be allowed to re-identify and vote a REGULAR ballot. If you have trouble casting a regular ballot as an "inactive" voter, call @NAACP_LDF at (202) 682-1300!
For their part, Alabama's voting rights officials insist there's nothing to see here.
According to the Alabama Secretary of State, earlier this year, the state sent postcards to Alabama voters. The postcards were not forwardable–meaning if a voter moved, the postcard wouldn't follow them to their new address. Postcards that came back as non-deliverable resulted in the state sending a forwardable postcard to the old address.
If the second card was not returned within 90 days of being sent, then voters were moved to "inactive" status. As many voting rights advocates have pointed out, such revisions of voter rolls disproportionately impact poor and minority voters–who tend to move around more often than their white and wealthy counterparts.
Law&Crime reached out to Alabama Secretary of State John H. Merrill for comment on this story, but no response was forthcoming at the time of publication.
Read Brittany Melton's entire story here.
Update: 5:44 p.m.
Late this afternoon multiple reports surfaced of Alabama police pouncing on polling stations to allegedly "check voters for outstanding warrants."
Alabama NAACP officials noted that this is a common tactic used in the state and that it typically will depress turnout because it can "deter people from voting" in the first place.
According to journalist Ken Klippenstein, three police showed up at the Vaughn Park Church of Christ at 3800 Vaughn Road in Montgomery around 2:30 this afternoon. He later noted, "ACLU of Alabama has informed me that they're dispatching staff to the polling facility I saw three cops enter."
Cop just arrived at the polling station I'm at here in Montgomery, Alabama. NAACP official told me that in previous Alabama elections, police have checked voters for outstanding warrants at polling stations, which can deter people from voting pic.twitter.com/3i1pf1uvnE

— Ken Klippenstein (@kenklippenstein) December 12, 2017
Klippenstein also claims to have video of the incident. Law&Crime will post said video if and when it is made available.
Check back here for updates as this remains a breaking story.
[image via screengrab/MSNBC]
Follow Colin Kalmbacher on Twitter: @colinkalmbacher
Have a tip we should know? [email protected]