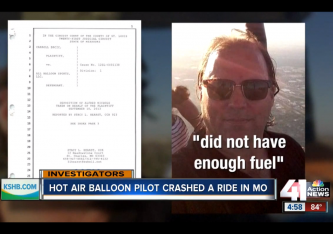 The pilot of the hot air balloon that crashed in Texas over the weekend, killing all 16 people on board, was sued over a similar incident several years ago in Missouri, according to a new report.  It was also discovered that the hot air balloon pilot was a felon, with a record that reportedly included multiple drunk driving and drug related charges.
KSHB 41 Action News investigators discovered court records from a lawsuit filed in 2012 against Air Balloon Sports, LLC, a Missouri based hot air balloon ride company.  Further research reportedly revealed the pilot involved in the deadly Texas incident, Alfred Nichols, was formerly an owner of Air Balloon Sports, LLC.
The court records obtained by the news station show the lawsuit was filed as a result of an incident that took place during a balloon ride in 2009.  Nichols took a family of three up in the hot air balloon that ended with the balloon striking trees on the way to the ground, injuring one of the family members.  The family said Nichols informed them he had to bring the balloon down quickly because it was low on fuel.  However, when questioned under oath, Nichols reportedly testified that he brought the balloon down because it was drifting toward power lines.
The plaintiff's attorney in that lawsuit, Lee Patton, told the news station he obtained a $10,000 financial settlement for his client, but he expressed regret that he did not do more to ensure Nichols lost his license.
"I wish I would have done more to get this guy's license permanently suspended," Patton told 41 Action News.
Have a tip we should know? [email protected]