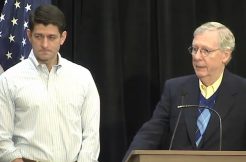 GOP staffers helped work on President Donald Trump's controversial travel ban, but they had to sign nondisclosure agreements, and leadership was out of the loop, according to a POLITICO report from Monday.
"Like other congressional committees, some staff of the House Judiciary Committee were permitted to offer their policy expertise to the Trump transition team about immigration law," a House Judiciary Committee aide said in a statement. "However, the Trump Administration is responsible for the final policy decisions contained in the executive order and its subsequent roll-out and implementation."
The problem was, House Speaker Paul Ryan (R-Wisconsin) didn't read the final text until reporters got it on Friday, according to multiple Hill sources. The same was reportedly true of Senate Majority Leader Mitch McConnell (R-Kentucky). A Judiciary Committee aide told the outlet that the administration didn't even ask Judiciary Committee Chairman Bob Goodlatte (R-Virginia) for advice.
And, a senior GOP said congressional Republicans didn't receive talking points from the White House until late Saturday night.
"Their coordination with the Hill was terrible," this person said. "We didn't see the final language until it was actually out."
Then there's the nondisclosure agreements. GOP staffers reportedly started work on the EO between the election and inauguration. Two sources familiar with the matter told POLITICO that the transition team made them sign NDAs.
Kathryn Rexrode, the House Judiciary Committee's communications director, declined to comment about the aides' work and the reported NDAs. We reached out to one of the president's spokespeople for comment.
During an April interview with The Washington Post, then-candidate Trump called for high-ranking government employees to sign DNAs.
"When people are chosen by a man to go into government at high levels and then they leave government and they write a book about a man and say a lot of things that were really guarded and personal," he said. "I don't like that."
The POLITICO report about the GOP staffers comes after news that Trump didn't clue key federal officials about his executive order. Sources told The New York Times, NBC, and NPR that various people were kept out of the loop despite the new policy being highly relevant to their work: This includes the Justice Department, the Department of Defense, National Security Council lawyers, and the State Department. Constitutional law professor Jonathan Adler says this alleged lack of coordination may undermine the Administration's policies in court.
[Screengrab via ABC]
Have a tip we should know? [email protected]